Manhattan Meeting for World Leaders at the UN Wins U.S. Backing
(Bloomberg) -- The Biden administration is calling for a scaled-down, in-person gathering of world leaders for the United Nations General Assembly in September as New York City, once the epicenter of the coronavirus pandemic in the U.S., recovers.
UN officials and diplomats from member states met last week to discuss possible formats for the annual General Assembly, and there was a growing consensus that the high-profile event, which usually brings about 10,000 diplomats to Manhattan, should be in-person after being held virtually last year, according to diplomats involved in the talks.
Because the U.S. is the host country for the UN headquarters, located in the Turtle Bay neighborhood on Manhattan's East Side, its guidance is crucial.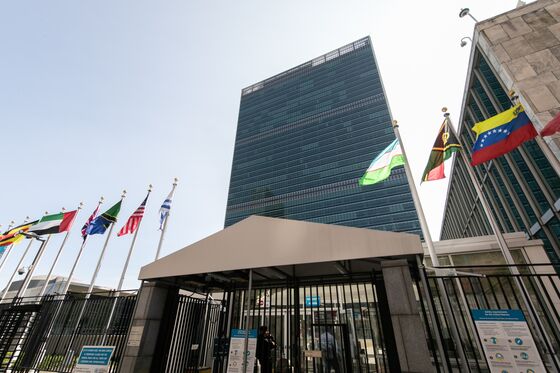 The U.S. is recommending that the UN hold a socially distant event, with no more than two participants per delegation allowed in the General Assembly Hall during leaders' speeches from the podium. The U.S. is also recommending that the delegations for each country remain small and that diplomats wear masks inside the building.
"A successful summit with limited delegations is 100% achievable," the U.S. mission to the UN said in a statement circulated by the president of the General Assembly to member states. "While we welcome heads of state or government to attend, we do encourage that all member states aim to limit their delegation size here in the City and thereby ensure the UN remains safe."
Side events should be kept virtual, and all visitors, from prime ministers to security staff, should follow guidelines from the U.S. Centers for Disease Control and Prevention, such as taking a test no more than three days before departure, according to the U.S. guidance.
"We ask all members states to consider any additional steps that would create a safer environment for High-Level Week since the pandemic remains a public health risk and every measure, particularly reducing the number of delegates visiting New York City, will be critical to mitigating the persistent threat from Covid-19," the guidance added.
A successful General Assembly would be more evidence of New York's recovery from the pandemic and would be welcomed by the hundreds of hotels, restaurants, bars and retail outlets that traditionally cater to visiting diplomats every September. As the pandemic raged last year, UN leaders decided to hold the event that marked the world body's 75th anniversary virtually.
"While we understand and appreciate that the size and form of the UN General Assembly is still under discussion, we are enthusiastic about the on-going reopening of New York City," said Penny Abeywardena, commissioner for the Mayor's Office for International Affairs.
"Our Covid rates are the lowest they have been since the start of the pandemic and we have administered more than 9 million vaccine doses. And so as we continue to safely welcome business, tourism and culture back to our offices, hotels and streets, we look forward to being able to host larger gatherings and signaling to the world that New York City is back."
The city's Covid-19 positivity rates have since fallen to a record low of 0.35% this week and more than 70% of adults in the state have received at least one vaccine dose, allowing nearly all coronavirus mandates to be lifted. The only precautions still in place are recommendations from the CDC, such as wearing masks on public transit.
Like many global financial hubs, New York's recovery has taken place in fits and starts. Public transportation use remains far below pre-virus levels, and vaccination rates vary widely within New York City: Almost 60% of residents in Manhattan are fully vaccinated, compared with 38% in the Bronx. While 73% of people age 65 to 74 are vaccinated across the city, only 41% of people age 18 to 24 are vaccinated.
To persuade more people to get vaccinated, Mayor Bill de Blasio announced a $100 vaccine referral bonus program last week. For every unvaccinated person an organization brings in to get inoculated, the community group gets $100, as much as $20,000, de Blasio said. He's aiming to have 5 million city residents vaccinated by the end of the month. About 4.5 million so far have received at least one dose.
That would bolster the prospects for an in-person UN General Assembly, which for decades has symbolized New York's role as the capital of a globalized world, where leaders from about 190 countries come together and conduct impromptu diplomacy on everything from climate change to matters of war and peace in hotel lobbies and rooftop bars.
For about a week each September, the UN podium becomes center stage for presidents, prime ministers and dictators to make their views heard across the world. Speeches run the gamut from fulminations against colonialism -- Cuba's Fidel Castro holds the UN record with a four-hour tirade in 1960 -- to the use of attention-grabbing props, such as the cartoon of a bomb with a lit fuse that Prime Minister Benjamin Netanyahu of Israel held up in 2012 to warn against Iran's nuclear ambitions.
A diplomat familiar with the discussions said more details are likely to be released by the president of the General Assembly in the next few weeks.
"We recognize there are many unknowns about the state of the pandemic this fall," the U.S. Mission to the UN cautioned. "Vaccine inequity, despite significant new commitments, will remain a challenge we must all confront. We also can anticipate that significant access issues to global transportation will persist."
"The United States, however," it added, "is committed to doing our part to stem these inequities."