Manhandling Protesters Was Justified, Macron's Ex-Bodyguard Says
(Bloomberg) -- Alexandre Benalla, the former bodyguard at the center of an affair that's weakened French President Emmanuel Macron, said that he regrets the problems he's caused the head of state but feels he was justified in roughing up May Day demonstrators.
Benalla said the opposition is exaggerating the matter to hurt Macron, speaking in his first public comments.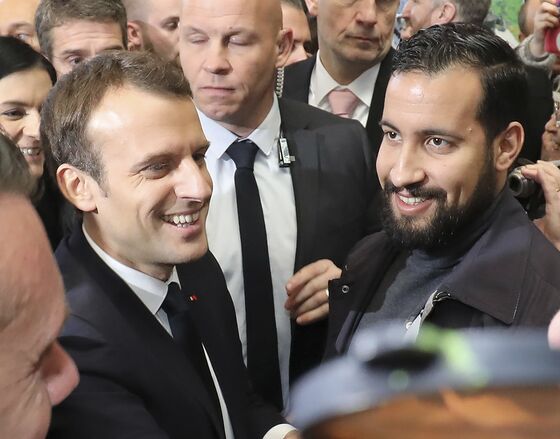 "I don't have the feeling of having betrayed the president, but I made a big blunder," the former aide said in an interview with Le Monde newspaper. "The error I made was more from a political point of view: I shouldn't have gone to that demonstration as an observer, and probably should have remained on the side."
Benalla was caught on video manhandling protesters at a May 1 rally. He was initially suspended for 15 days by Macron's chief of staff and then fired after Le Monde carried videos of the incident last week. He said the full footage shows his intervention at the demonstration was justified.
Benalla told Le Monde that the couple he was seen manhandling had moments before thrown bottles at riot police and were "hysterical." He said he had been given the police helmet, radio, and insignia automatically as an observer, and wasn't trying to impersonate a policeman.
He refuted many details that had been reported in the press. He said the official Paris apartment he was allowed to use was 80 square meters, not the 300 reported by some press; that his salary was 6,000 euros ($7,100) monthly after social charges, and not 10,000; and that he never possessed the keys to the Macron couple's beach house.
Benalla, who had worked in security at the Socialist Party, was hired by Macron's presidential campaign in 2016 after a friend told him the nascent political movement needed help with security. He said he was hired at the Elysee presidential palace after the election because he'd forged a reputation as a good organizer during the campaign.
His main work, he said, was taking care of the presidential couple on their private outings to cultural events and the seaside. He said he always used the formal "vous," with the president who responded with "vous" or the informal "tu" depending on the circumstances.
In the interview, Benalla described a confused security apparatus at the Elysee with infighting and jealousy between the various security services. Macron has said a reorganization of the Elysee is underway.