Manchin Slams Brakes on Biden Plan, Chides Progressives
(Bloomberg) -- Senator Joe Manchin said Congress needs more time to assess the impact of President Joe Biden's $1.75 trillion tax and spending package on the economy and the national debt, slamming the door on hopes by Democratic leaders for quick action on the plan.
The West Virginia Democrat on Monday refused to say whether he supports the outline Biden presented last week or whether there had been any progress in negotiations over the weekend. His remarks are a blow to Biden, who presented to House Democrats what he said was a compromise plan worked out over weeks of negotiations that would win support from all 50 senators who caucus with Democrats.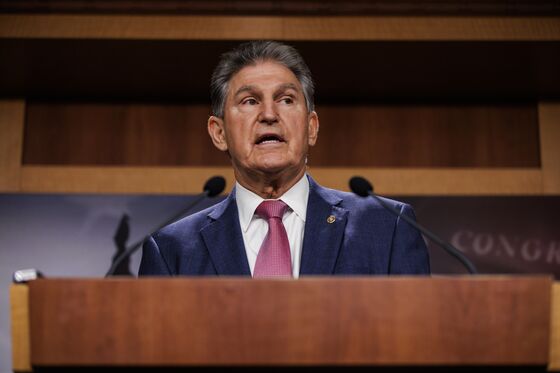 Manchin also criticized progressive Democrats for holding up a bipartisan infrastructure bill until there's full agreement on the larger economic package, adding to tension between the two wings of the party.
Many Democrats shrugged off Manchin's statements, saying Senate action was still weeks off anyway. Progressives indicated they're ready to move ahead to vote on both the infrastructure bill and the tax and spending package in the House.
Manchin said he wants a "complete analysis" of the Biden plan to know its true cost and that he's concerned that it will drive up both inflation and government debt.
"For the last three months, I've been straightforward about my concerns that I will not support a reconciliation package that expands social programs and irresponsibly adds to our $29 trillion debt that no one seems to really care about or really talk about," Manchin said at a news conference. "Nor will I support a package that risks hurting American families suffering from historic inflation."
Manchin's remarks came as Biden met with world leaders at a global climate conference in Scotland. He had delayed his trip to Europe last week by several hours to meet with and rally Democrats over the legislation, which includes extensive provisions designed to lower carbon emissions. 
The administration expressed confidence that the spending plan meets Manchin's demands.
"Senator Manchin says he is prepared to support a Build Back Better plan that combats inflation, is fiscally responsible, and will create jobs. The plan the House is finalizing meets those tests -- it is fully paid for, will reduce the deficit, and brings down costs for health care, child care, elder care, and housing," White House Press Secretary Jen Psaki said in a statement. "As a result, we remain confident that the plan will gain Senator Manchin's support."
Senate Majority Leader Chuck Schumer and House Speaker Nancy Pelosi both countered that the bill won't drive up deficits or inflation. 
"This will be just what the American people need and will not be, will not be inflationary," Schumer said on the Senate floor.
Manchin urged the House to pass the infrastructure bill, which he helped negotiate and has already passed the Senate. Progressives have backed the $1.75 trillion framework for the economic package, but they've refused to allow the House to vote on the infrastructure legislation until they have assurances that the Senate will move forward on the larger package.
"Holding this bill hostage is not going to work in getting my support for the reconciliation package," he said, referring to the more expansive tax and spending plan.
Pelosi said she still wants the House to act this week on the infrastructure legislation, which has $550 billion in new spending, and the larger bill. Representative Pramila Jayapal, head of the Congressional Progressive Caucus, indicated that Manchin's stance wouldn't change that schedule.
"I trust the president. He is going to deliver 51 votes" for the tax and spending plan in the Senate, Jayapal said on CNN after Manchin's remarks. "We intend to pass both bills in the House in the next few days."
Other top Democrats indicated the goal remains to try to clear both bills through the House as early as this week, even as Senate negotiations continue.
"At some point, close the deal," Senator Dick Durbin of Illinois, the chamber's No. 2 Democrat, said.
Senate action on that larger legislation would likely have been held up for procedural reasons and to await an analysis by the Congressional Budget Office until later this month. Senator Brian Schatz, a Hawaii Democrat, shrugged off Manchin's stance, saying on Twitter that it didn't "substantively" change the Senate's timeline for those reasons.
Manchin suggested that the House draft bill has budget "gimmicks" including creating new benefit programs for a short term that Congress will likely extend in future years. 
Manchin's concerns stem from Democrats cutting the cost of a $3.5 trillion plan to $1.75 trillion largely by reducing the number of years certain benefits -- such as the expanded child tax credit -- are offered. Many Democrats are hoping to renew those programs later, though there is no guarantee they'll be able to do so. If Democrats are successful in extending the social spending programs through 2031, the bill could cost could balloon to $4 trillion with only $1.56 trillion in tax offsets, according to new analysis from the Penn Wharton Budget Model.
Separately, the CBO has estimated that the infrastructure plan he supports does not fully pay for itself, and that plan had several provisions widely considered gimmicks.
Manchin has been a key driver, along with Senator Kyrsten Sinema of Arizona, in the extended negotiations over Biden's economic agenda and in scaling it back to roughly $1.75 trillion from the $3.5 trillion outline congressional Democrats initially approved in August.
Sinema has yet to directly back the Biden plan in public.
In a Senate split 50-50, Manchin's and Sinema's agreement is crucial. With Republicans unified against the Biden plan, Vice President Kamala Harris would provide the tie-breaking vote.
There are still some details of the tax and spending package yet to be filled in. Democrats worked over the weekend to try to reach an agreement on whether to add drug price negotiation for Medicare, a change to federal deductions for state and local taxes, paid family leave and immigration language, among other items.