Manchin Says No to Biden Agenda, Killing Momentum for Bill
(Bloomberg) -- Senator Joe Manchin said Sunday he won't support the $2 trillion tax-and-spending plan that's the heart of President Joe Biden's economic agenda, effectively killing Democrats' plans to pass the legislation as they begin an election year.
"I can't get there," Manchin said on "Fox News Sunday."
Manchin's decision, after weeks of direct negotiations with Biden, blindsided the White House. Press secretary Jen Psaki said that the West Virginia Democrat on Tuesday had submitted a framework for legislation that followed the contours of the president's plan as a basis for further talks.
"While that framework was missing key priorities, we believed it could lead to a compromise acceptable to all," Psaki said in a statement. "If his comments on FOX and written statement indicate an end to that effort, they represent a sudden and inexplicable reversal in his position, and a breach of his commitments to the President and the Senator's colleagues in the House and Senate."
Manchin was a crucial vote for the package in the 50-50 Senate, and getting his support was one of the last remaining hurdles for the party in negotiations over a bill that Democrats aimed to make a centerpiece of their campaigns in the 2022 midterm congressional elections.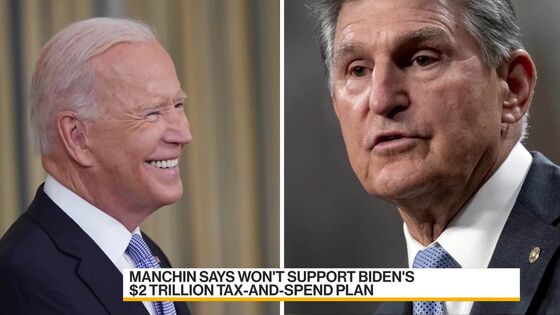 Manchin said that his concerns about rising inflation and the $29 trillion national debt led to his decision. He said that the House bill is not honest because it creates many benefits that expire rather than creating a few for 10 years that are fully paid for.
"If I can't go home and explain it to the people of West Virginia, I can't vote for it. And I cannot vote to continue with this piece of legislation. I just can't," Manchin said on "Fox News Sunday." "This is a no on this legislation."
Republicans wooed Manchin with arguments first that the package was too big, and later, after Democrats slashed its topline to appease Manchin, that it was filled with budget gimmicks -- like shortening the effective timelines for programs such as the expanded child tax credit -- to mask its size.
A Congressional Budget Office score earlier this month ordered up by the GOP showed the size of the package would be closer to $5 trillion if all of the programs ran for a decade. The White House and Democratic leaders disputed the validity of the analysis and said they would offset any additional costs.
In a statement Sunday, Lindsey Graham of South Carolina, the top Republican on the Budget Committee, said that CBO report "confirmed Senator Manchin's worst fears about Build Back Better."
In recent days, Manchin made clear to his colleagues that if the expanded child tax credit were to be continued it would have to be for 10 years, a cost of $1.4 trillion which would leave little room for other priorities under the $1.75 trillion topline Manchin has previously endorsed.
"They said, 'Well, can we still make this fit? We'll just cut it down to two years versus 10 years. We'll cut this one down to four years versus 10 years, or one year versus 10 years,'" Manchin said Sunday of his fellow Democrats. "That's not being genuine, as far as I'm concerned, with my constituents in West Virginia."
The challenge for the White House and Majority Leader Chuck Schumer will be determining whether Manchin's announcement is a hard-nosed negotiating tactic to make deep changes to the bill or is truly the end of the line.
Senate Budget Chairman Bernie Sanders said on CNN "State of the Union" that Democrats should put the bill on the floor in January and dare Manchin to vote against it.
"If he doesn't have the courage to do the right thing for the working families of America and West Virginia, let him vote no in front of the whole world," Sanders said.
Representatives of Schumer didn't immediately respond to a request for comment.
The roughly $2 trillion plan would have extended the expiring child tax credit and enacted new child care subsidies, the largest climate package ever, and money for assorted other programs for the middle class and the poor paid for with higher taxes on people making more than $400,000 a year and corporations.
Manchin's decision leaves in limbo many other items, including a push by Democrats in high-tax states like New York and New Jersey to restore the state and local tax deduction, or SALT.
Other items that have little to no chance of passing without Manchin climbing back on board include Medicare negotiating some drug prices, a paid family leave benefit, tax credits for electric vehicles and a transition to cleaner energy.
If the White House can't regroup and cobble together a radically reworked and smaller bill to win Manchin's support — and keep other Democratic constituencies from scuttling the bill in kind — none of that will happen.
Manchin's decision drew sharp responses from some other Democrats.
"After months of negotiations, one Democratic U.S. Senator has now summarily walked away from productive negotiations," Virginia Representative Abigail Spanberger, a moderate representing a swing district, said in a statement. "That is unacceptable, and we cannot act like this moment is the end."
Many of Biden's other legislative agenda items, including voting rights, have little chance of success in a Senate that continues to have a 60-vote rule for most legislation and near-uniform GOP opposition.
Manchin's opposition is also a victory for the Chamber of Commerce, which sought to kill the bill and its taxes on corporations, as well as Republicans who united against the plan's spending and taxing.