Key Democrats Hold Back on Budget Deal Until Details Offered
(Bloomberg) -- Democratic Senators Joe Manchin and Jon Tester said Wednesday that they are not yet on board with the $3.5 trillion tax and spending deal that Budget Committee Democrats reached late Tuesday night, leaving the fate of the measure uncertain in the evenly divided Senate.
Manchin, whose home state of West Virginia overwhelmingly backed Donald Trump in the last two presidential elections, said he's "open" to reviewing the deal once more details are available. Tester, also from a heavily Republican state, called the package "a lot of money."
"It doesn't scare me if it is spent appropriately and over the right amount of time. We will analyze that," the Montana Democrat said.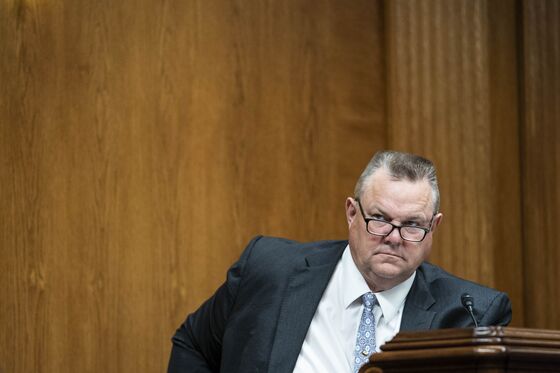 Both said they are waiting to see more details before committing to the proposal. The two moderate Democrats are pivotal votes in the 50-50 Senate and their support will be key to passage of legislation to enact major parts of President Joe Biden's agenda with Republicans united in opposition.
Manchin on Wednesday afternoon signaled support for some aspects of the plan and said he is "fine" with it including language establishing legal permanent residency for some immigrants.
"I'm a 2013 immigration supporter," Manchin said, referring to a Senate-passed bill that would have made it possible for many undocumented immigrants to gain legal status. "If we had that bill then we would have the problems we have today."
This comes as Senate negotiations for separate immigration legislation near a standstill. Advocacy groups see the inclusion of immigration in the budget agreement as the latest positive sign of a possible breakthrough.
Manchin and Tester, who both sit on the Appropriations Committee, said they want to make sure the bill is fully paid for.
"We are going to have to pay for all this," Manchin said, adding that he also is concerned about government debt and the risk of inflation.
But he also said he would be comfortable with some so-called dynamic scoring of the bill, which would include long-term economic growth in calculating the legislation's costs.
Manchin stressed that any tax increases shouldn't make the U.S. less competitive on the global stage.
Manchin added that he was not consulted on the proposal. House Budget Chair John Yarmuth, a Kentucky Democrat, also said he is waiting to see more details before commenting on it. They spoke shortly before Biden met with Senate Democrats at lunch to discuss the agreement.
Manchin has said he is willing to revisit the Trump tax cuts. But he said that when it comes to raising the corporate tax rate from 21%, he would prefer a 25% rate in order to keep the U.S. competitive rather than the 28% rate Biden has proposed,
Senate Majority Leader Chuck Schumer, a New York Democrat, said Wednesday that the Budget Committee plan is a strong start toward developing legislation, while acknowledging "there's a long road ahead of us."
The Senate's top Republican, Mitch McConnell of Kentucky, blasted the agreement. With inflation "raging," he said Wednesday morning, the budget plan is "wildly out of proportion to what the country needs right now."
Republicans are expected to be united in their opposition to the Senate tax and spending package. Some Senate GOP members are participating in separate talks over a $579 billion bipartisan infrastructure bill that Manchin has championed. Those talks are hung up on how to pay for the plan.