Manchin Casts Doubt on Oct. 31 Deadline to Act on Biden Plan
(Bloomberg) -- Democratic Senator Joe Manchin said there's little chance that Congress can complete work on President Joe Biden's economic agenda by the end of the month deadline set by his party's leaders.
"There is an awful lot to go, I don't know how that would happen," Manchin, whose vote is pivotal in the 50-50 Senate, told reporters Monday at the Capitol. "Once you come to a meeting of the minds, you might be able to work something out."
The conservative West Virginia Democrat has been at the center of negotiations. Biden talked with him by phone Monday, and he met with Senator Bernie Sanders and Representative Pramila Jayapal, two progressives who have been increasingly critical of Manchin over his opposition to their top priorities.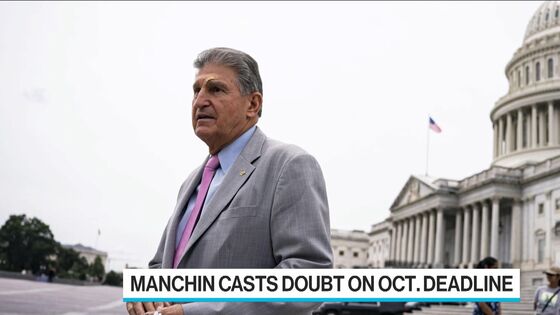 With the clock ticking, Biden is attempting to push the party's two competing factions toward an agreement. He plans separate meetings on Tuesday with representatives of progressives and moderates.
House Democratic leaders have said they are intending to vote on the two main pieces of Biden's domestic plan -- a bill with $550 billion in new funding for infrastructure and a multi-trillion-dollar tax and spending package -- by Oct. 31.  
That's when a temporary extension of highway maintenance funding runs out again, forcing some kind of congressional action, and Senate Majority Leader Chuck Schumer has called on Democrats to resolve their differences on the second bill by then. Progressives have blocked the House from acting on the Senate-passed bipartisan infrastructure bill which includes highway funding until a deal on the separate spending and tax legislation is reached.
Manchin's vote will be needed to pass Biden's plan, which includes provisions to fund child care, programs for the elderly and climate measures mostly funded by higher taxes on the wealthy and corporations. 
Oct. 31 also is the date that a United Nation's climate conference opens in Glasgow, which Biden is scheduled to attend. But Manchin also said he opposes a clean power plan that has been a major priority for the White House and Biden's goal of de-carbonizing the nation's electric grid by 2035. The Clean Electricity Payment Program would pay utilities for using clean energy and penalize those that don't. But the lack of Manchin's support has the administration seeking alternatives.
A few Democrats have said they won't support legislation without substantial provisions to deal with climate change.
"It's important that we get as much in on climate as we can," Virginia Democratic Senator Tim Kaine said. "That's what our folks expect of us."
There still are difference over the overall size of the plan. The White House initially backed a $3.5 trillion draft plan, but Manchin said Monday he is sticking to a limit of $1.5 trillion in spending. He said that other requirements he has outlined, including work requirements for new social programs, also remain in effect. Biden has said he expects the compromise figure will be about $2 trillion and the White House Monday indicated Biden is open to having income tests for some programs.
An additional complication is that Senator Kyrsten Sinema, an Arizona Democrat whose support also is critical for Democrats to advance the bill, has yet to publicly lay out her main demands for legislation.
Democrats fear that ongoing intra-party squabbling over the size and scope of the tax and spending bill could damage the party in the 2022 midterm elections. 
"The longer we wait the less likely that we're going to produce a product that the American people are anxious to receive," said Senator Dick Durbin, the chamber's No. 2 Democrat.
In addition to talking with Manchin, the president on Monday spoke with Jayapal, the head of the Congressional Progressive Caucus. Jayapal and other liberals are set to meet with Biden on Tuesday, according to her office. A separate meeting with centrist Democrats has also been planned.
"We are at a point where we feel an urgency to move things forward," White House Press Secretary Jen Psaki said, adding that an acceleration of Biden's calls and meetings "is a reflection of that."