Here's What to Watch in the Trump Legal Saga This Week
(Bloomberg) -- Donald Trump knew beforehand about a notorious 2016 meeting with Russians, his ex-lawyer says. Trump's former campaign chairman is going on trial. And maybe we'll learn more about three more women who an opposing lawyer says were paid off to keep quiet about relationships with Trump.
So much for a quiet summer.
For beach reading or deskside briefings, here are highlights from the past week in the myriad legal cases entangling people around Trump and foreigners who attempted to aid his election, and what to watch in the coming week:
Following a brief delay, U.S. Special Counsel Robert Mueller's back on track for his first test in court, as Trump's former campaign chairman Paul Manafort is set to go on trial July 31 in Alexandria, Virginia. Mueller has lots of evidence, plus five potential witnesses who've been promised immunity to testify against Manafort. They include people from an accounting firm used by Manafort and others who likely worked for a Chicago bank that provided him with millions in mortgages.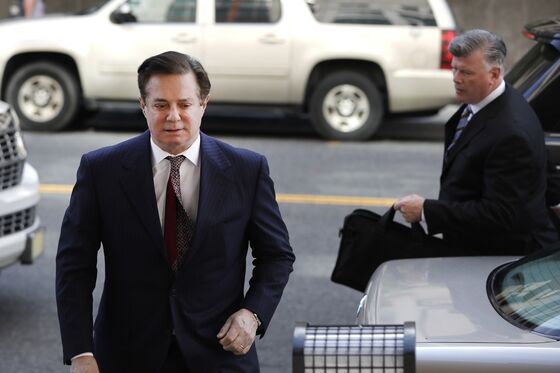 Prosecutors also released names of 35 potential witnesses they may call to testify. They include Rick Gates, Manafort's former right-hand man who pleaded guilty and is cooperating with Mueller. Jurors may also hear from witnesses involved in sales of Yankees tickets to Manafort, a Mercedes Benz to his wife, and from an Airbnb official about a rental of a Manafort condo.
Manafort, 69, is grappling with bank-fraud and tax charges, not to mention deteriorating finances, failed pretrial motions and betrayal by his right-hand man. Still, he has confounded expectations that he would fold and cooperate with Mueller, maintaining his innocence.
The former lobbyist for pro-Russian politicians in Ukraine is accused of filing false tax returns and failing to disclose offshore financial accounts. He must also defend against charges that he lied to banks to secure $20 million in loans. To convict Manafort of the tax crimes, jurors will have to conclude that Manafort knew the law and broke it anyway. The trial is expected to last about three weeks. Jury selection started last week, with potential panelists filling out questionnaires and 27 of them already dismissed as the winnowing starts.
Regardless of the Virginia verdict, Manafort is due for a trial on more charges in September in Washington. There, he's accused of money laundering, obstruction of justice and acting as an unregistered foreign agent. The D.C. judge revoked his bail and sent him to jail after prosecutors said Manafort tried to tamper with witnesses.
Here are some of recent stories on the Manafort case and a link to the Special Counsel site:
Meanwhile, it's apparent that Michael Cohen, Trump's former fixer and lawyer, has more to say about his former boss.
Cohen claims that Trump was briefed ahead of a June 2016 meeting that included Trump's son Don Jr. and a Russian lawyer, where the president's son was promised dirt on Hillary Clinton, according to CNN, which cited people familiar with the matter. Cohen is willing to tell Mueller that Trump was told of the pending meeting, CNN reported. The president denied the claim in a tweet.
Trump's team previously denied that he knew afterward that his son and campaign manager met with the Russians, or that he had been involved in the drafting of a misleading statement explaining the meeting. Those denials turned out to be false.
CNN also aired a recording of a conversation Cohen had with Trump in 2016 in which they discussed buying the rights to a former Playmate's story about her alleged affair with Trump from the publisher of the National Enquirer. American Media Inc. paid $150,000 to Karen McDougal for the rights to her story. The publisher never ran the story -- a tactic known as "catch and kill."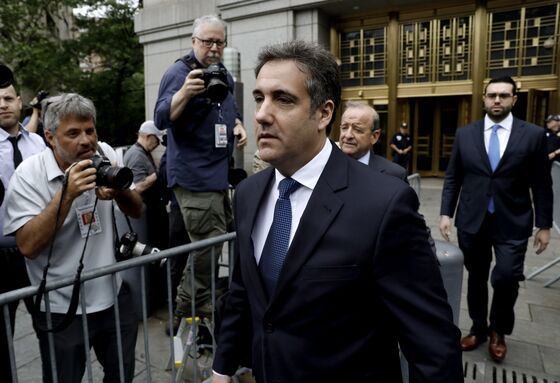 In an interview on CBS's "Face the Nation" on Sunday, Trump lawyer Rudy Giuliani said he's aware of "something like 183 unique conversations on tape" from Cohen. Trump is on one tape discussing a possible payment to McDougal, and there are another "11 or 12 others" in which Trump is discussed, Giuliani said. There are an "untold number" of other tapes that have "no relation" to Trump, he said.
Cohen's lawyers found the recording about McDougal during a review of the evidence seized during the FBI search and shared it with Trump's lawyers. Cohen is still waiting to see whether federal prosecutors in New York charge him with anything related to his businesses.
Giuliani has accused Cohen of violating attorney-client privilege, prompting Lanny Davis, Cohen's lawyer, to say in a statement on July 28 that Giuliani "seems to be confused." Giuliani forfeited confidentiality when he repeatedly talked about the recording, Davis said.
Here are some of the most recent stories on Cohen's travails:
There are more women than previously revealed who were paid hush money to keep quiet about their relationships with Trump, according to Michael Avenatti, the lawyer who represents Stephanie Clifford, the adult-film star known as Stormy Daniels. She was paid $130,000 before the 2016 election to keep quiet about her alleged tryst with Trump.
Avenatti told an audience in Los Angeles last week he represents three other women paid off in 2015 and 2016. He refused to identify them. One of the women became pregnant, he said. In a follow-up email Friday, he wrote that he couldn't disclose whether her pregnancy was brought to term.
Meanwhile, Trump asked a judge in New York to move a defamation lawsuit filed by Clifford to Los Angeles. She sued Trump in April after the president tweeted that a claim by Clifford -- that a man threatened her in a Las Vegas parking lot in 2011 if she didn't keep quiet about her encounter with Trump -- a "total con job." Trump's lawyers say the suit was filed in New York only to avoid a judge's ruling to put on hold her Los Angeles lawsuit seeking to void her hush agreement with Trump.
Here are some of recent stories on Clifford and Avenatti:
A 29-year-old Russian woman accused of using a network of influential Americans to try and sway political activities in the U.S. remains behind bars, as lawyers squabble over the exchange of information. The red-headed, gun-brandishing operative, Mariia Butina, was charged with failing to disclose her advocacy for Russia. U.S. prosecutors allege she worked closely with an official close to President Vladimir Putin, and together they built ties with the National Rifle Association.
U.S. prosecutors say millions of pages of evidence gathered in the case should be kept from the public because some of it relates to ongoing investigations. Prosecutors have said they're conducting a fraud investigation of an American who lived with Butina and provided her with access to influential U.S. conservatives.
Prosecutors told a judge in Washington on July 25 that they're ready to turn over to Butina's lawyers about 3 million documents, but that can't happen unless it's agreed that they remain confidential. U.S. District Court Judge Tanya Chutkan warned Butina's lawyer, Robert Driscoll, about talking too much about the case in the press and said she would consider issuing a gag order if he did.
The next hearing is scheduled for Sept. 10.
Here are some recent stories on the Butina case:
Rockefeller Heir Helped Accused Russian Hobnob With D.C. Elite
Russian Hacks, Mueller's Shadow
After indicting 12 members of the GRU, Russia's military intelligence agency, on July 13, Mueller's investigation of Russia's interference in the U.S. elections has gone silent again.
But the New York Times reported July 26 that Mueller is scrutinizing tweets and negative statements made by the president about Attorney General Jeff Sessions and former FBI director Jim Comey as part of the investigation. Mueller is examining whether the comments add up to attempts to obstruct the investigation by both intimidating witnesses and pressuring senior law enforcement officials to tamp down the inquiry, the Times said.
Whether Trump will agree to be questioned by Mueller's team still remains unclear. But the Times said Mueller wants to question the president about the tweets.
Giuliani told the Times that Mueller's investigation is part of a desperate quest to sink the president. "If you're going to obstruct justice, you do it quietly and secretly, not in public," Giuliani said.
Trump escalated his attacks on Mueller and the investigation on Sunday, asking in a tweet whether Mueller is "ever going to release his conflicts of interest with respect to President Trump, including the fact that we had a very nasty & contentious business relationship." The president didn't say what those conflicts were.
The special counsel's team has now indicted more than 30 people and three Russian companies, and secured five guilty pleas -- with several of Trump's former associates also agreeing to cooperate. Mueller appears to be far from finished.
Here are some of recent stories on Mueller's investigation:
The president failed again in his attempt to have a lawsuit accusing him of improperly profiting from his posh downtown Washington hotel thrown out.
U.S. District Judge Peter Messitte denied the president's dismissal request and allowed the suit by the attorneys general of Maryland and the District of Columbia to move forward. It may open the door to an examination of just how much money Trump has made from his Washington businesses while in office and the sources of that income.
A lawsuit has also been brought by about 200 Democrats in Congress and another by some state attorneys general. A third case, by an ethics watchdog group and restaurant competitors of the Trump Organization, is on appeal after a Manhattan federal judge tossed it out. The cases could force Trump to divest his holdings or put them in a blind trust. At a minimum, the plaintiffs will seek Trump's tax returns.
New York Governor Andrew Cuomo's administration is investigating whether Trump's charitable foundation violated state tax laws, said a person familiar with the probe. That could complicate a separate civil lawsuit against the foundation if it results in a criminal referral to the New York attorney general's office.
The state sued to dissolve Trump's charitable foundation, claiming it persistently broke state and federal laws through improper political activity and self-dealing. A judge has urged Attorney General Barbara Underwood and the foundation to settle most of the lawsuit quickly.
Here's a recent story on the foundation lawsuit:
Trump's former national security adviser, Michael Flynn, who was fired for having lied to the FBI and the vice president about his contacts with Russians, is a key cooperating witness in Mueller's probe. He's awaiting to be sentenced for having lied to the FBI about contacts he had with Russians. A judge asked to be updated on the status of his case by Aug. 24.
Former Trump campaign advisers Gates and George Papadopoulos also pleaded guilty to lying to the FBI.
Here are some of recent stories on Flynn:
Concord Management, a company led by Russian businessman Yevgeny Prigozhin, asked a Washington judge on July 16 to throw out charges accusing it of backing a wide-ranging attempt to influence the U.S. election. The company is among two other businesses and 13 people charged in February for engaging in a years-long, multimillion-dollar conspiracy to undermine Hillary Clinton as the Democratic presidential candidate. The next hearing is set for Aug. 3.
Previously, the Democratic National Committee sued Russia, the campaign, WikiLeaks and Trump's associates claiming widespread election interference. After numerous failed attempts, Jared Kushner's lawyer agreed to accept service of the DNC lawsuit last week. The case in Manhattan could force campaign staffers to answer questions under oath. A hearing is scheduled for Sept. 13.
Here's a story on Kushner response:
The Manafort cases are U.S. v. Manafort, 17-cr-201, U.S. District Court, District of Columbia (Washington), and 18-cr-83, U.S. District Court, Eastern District of Virginia (Alexandria).
The Butina case is U.S. v. Butina, 18-cr-00218, U.S. District Court, District of Columbia (Washington).
The Cohen case is In the Matter of Search Warrants Executed on April 9, 2018, 18-mj-3161, Southern District of New York (Manhattan).
The Russian GRU hackers case is U.S. v. Netyksho, 18-cr-215, U.S. District Court, District of Columbia (Washington).
The hacking indictment is U.S. v. Concord Management, 18-cr-00032, U.S. District Court, District of Columbia (Washington). The DNC case is Democratic National Committee v. the Russian Federation, 18-cv-3501, U.S. District Court, Southern District of New York (Manhattan).
The Clifford cases are Clifford v. Trump, 18-cv-2217, U.S. District Court, Central District of California (Los Angeles); Clifford v. Trump, 18-cv-3842, U.S. District Court, Southern District of New York (Manhattan); and Clifford v. Davidson, 18-cv-5052, U.S. District Court, Central District of California (Los Angeles).
The Playmate case is Bechard v. Broidy, BC712913, California Superior Court, Los Angeles County (Los Angeles).
The Denson case: Denson v. Trump, 18-cv-2690, U.S. District Court, Southern District of New York (Manhattan).
The Flynn case is U.S. v. Flynn, 17-cr-232, U.S. District Court, District of Columbia (Washington).
The Apprentice case is Zervos v. Trump, 150522/2017, New York Supreme Court, New York County.
The emoluments cases are Blumenthal v. Trump, 17-cv-1154, U.S. District Court, District of Columbia (Washington); District of Columbia v. Trump, 17-cv-1596, U.S. District Court, District of Maryland (Greenbelt); Citizens for Responsibility and Ethics in Washington v. Trump, 17-cv-00458, Second U.S. Circuit Court of Appeals (Manhattan).
The Trump Foundation case is People of the State of New York v. Trump, 451130/2018, New York Supreme Court, New York County.
The driver's case is Cintron v. Trump Organization LLC, 653424/2018, Supreme Court, State of New York (Manhattan).