Paul Manafort Is About to Learn If a Third Trial Is in His Future
(Bloomberg) -- President Donald Trump's former campaign manager Paul Manafort may not learn for several weeks if he'll have to face off against U.S. Special Counsel Robert Mueller in a third trial. Mueller is seeking more time to decide whether to retry Manafort on 10 counts that a Virginia jury deadlocked over last week.
Facing a Wednesday deadline to make a decision, Mueller told U.S. District Judge T.S. Ellis III that his team didn't have enough information to make that call because Manafort's lawyers hadn't filed their post-trial motions. Manafort doesn't object to the delay, Mueller said. The judge didn't immediately rule on the request.
Manafort's lawyers had asked Ellis immediately after the verdict was issued to give them 30 days to file post-trial motions challenging their client's conviction, instead of the usual 14 days. If the judge agrees, that would give them until Sept. 21 to file. Prosecutors proposed that their deadline to decide on a retrial would then be a week after the judge rules on the post-trial motions.
Mueller's move gives him the option to pursue a second chance to make his case against Manafort in the event that Ellis overturns some or all of the convictions. It's also spurring debate over whether he might be involved in plea talks with the prosecutors.
Gene Rossi, a former federal tax crimes prosecutor, suggested he's probably not. The prosecutors' public filing of the motion to delay the retrial decision signals that no serious plea negotiations are underway, he said. If such talks were ongoing, "then they would make that memo under seal because they don't want to prejudice Paul Manafort's right to a fair and impartial jury trial in D.C.," he said.
But Seth Taube, a former prosecutor at Baker Botts LLC, sees it differently.
"Sometimes a prosecutor's request for delay on retrial is to allow negotiations with the defendant on a deal," Taube said. Since Manafort's team consented to the delay, "it seems more likely that this is the case."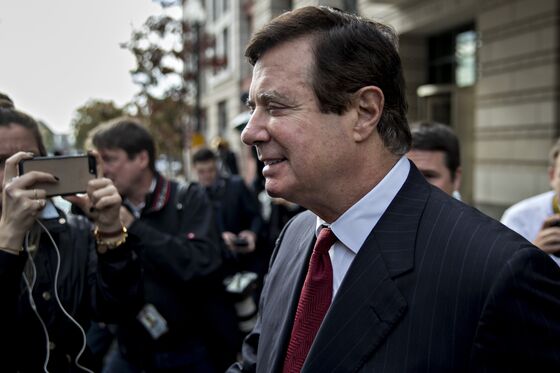 Manafort, 69, faces the prospect of hard time for his convictions. Ellis has a history of handing out tough sentences. And Manafort also has another trial set to start next month on money laundering and obstruction of justice charges. That's in Washington -- a venue that could be less friendly than Ellis's court.
Preparing for a trial and a retrial would translate into more legal bills for the formerly high-living strategist, who can anticipate the prospect of stiff financial penalties for his tax crimes.
Snowballing legal woes like those have historically led many defendants to seek plea deals. Manafort's lawyers reportedly sought such an agreement, unsuccessfully, during the days the Alexandria jury was deliberating.
It's unclear if prosecutors would now entertain a deal that would let Manafort cut his time in prison. It's also not clear whether Manafort has anything to offer Mueller in his investigation into possible Russian influence in the 2016 election. And it's always possible that Manafort is calculating that Trump could brave political and legal fallout and issue a pardon or commutation.
Former federal prosecutor Barbara McQuade, a law professor at the University of Michigan, said it's likely that Manafort's lawyers are discussing a deal ahead of the Washington trial to resolve all the cases Manafort faces, which could include forfeiture of cash and even a cooperation agreement.
But the longer Manafort waits to cut a deal, the less beneficial it may be for him, said Patrick Cotter, a former federal prosecutor now with Greensfelder in Chicago.
"The best deal you had was yesterday's. Tomorrow's deal will be worse than today's. That's where Manafort is," Cotter said. "Mueller's motivation is to save time, money and get the certainty of a conviction in D.C. I think he'd trade a small amount of leniency for a plea. But without cooperation, I don't see Mueller being willing to do much for Manafort."
Here's a look at some of the deepening woes:
In Manafort's bank and tax fraud trial in Alexandria, one holdout juror prevented a conviction on all 18 counts, voting not guilty on 10 of them, mostly related to bank fraud. The verdict form indicates they'd found him guilty on two counts of failing to disclose foreign bank accounts to the U.S., then rescinded the judgment.
If prosecutors decide to try him again on those counts a trial could be scheduled as soon as Ellis, the judge, finds room for it on his calendar.
Manafort faces eight to 10 years in prison on the tax convictions, and he's unlikely to get an easy ride from Ellis. While the cantankerous appointee of Ronald Reagan repeatedly clashed with prosecutors during the early stages of Manafort's trial, Ellis has also made no secret of his disdain for tax cheats.
In July 2017, a wealthy investor named Dan Horsky stood before Ellis, guilty of squirreling away $200 million in offshore accounts in a scheme designed to hide his control of the funds from U.S. tax authorities.
Horsky, 71 at the time, had several things in his favor that Manafort may not. He cooperated with prosecutors and agreed to repay at least $124 million to the U.S. The government requested leniency. Still, Ellis sentenced Horsky to seven months in prison -- noting that crimes have consequences and sentences should act as a deterrent.
"There are no free passes. There are always consequences for this kind of criminal violation," Ellis told Horsky. "Don't lie to the government. I grew up in countries where part of the culture was you do lie to the government. They didn't have the rule of law. We don't want that to happen here."
While Ellis kept prosecutors on a short leash during the trial, the judge overseeing Manafort's next trial has shown a willingness to come down hard on Manafort. The longtime political operative faces a trial in Washington on charges of conspiring to launder money and obstruct justice, and acting as an unregistered foreign lobbyist on behalf of the Ukrainian government.
The judge in that case, U.S. District Judge Amy Berman Jackson, sent Manafort to jail after the Special Counsel's office accused him of witness-tampering and violating the terms of his pre-trial release.
"This is not middle school," Jackson said at the time. "I can't take his cellphone."
The judge has "shown herself to be more critical of Manafort in the various motions that have been filed," says attorney Jeffrey Jacobovitz, a partner at Arnall Golden Gregory LLP in Washington. "She'll play it down the middle. She's no nonsense and won't let any testimony or courtroom antics get out of hand."
Manafort, who would likely face more left-leaning jury in Washington, also asked Jackson on Wednesday to move his trial to Roanoke, Virginia, arguing that the pool of potential Washington jurors would be biased against him. The Western District of Virginia, which includes Roanoke draws its jurors from a predominantly Republican-leaning region. By contrast, in Washington, the former top Trump aide will appear before a jury drawn from a heavily Democratic constituency.
During the Alexandria trial, federal prosecutors presented evidence that Manafort used some of his millions of dollars in undeclared offshore accounts to buy custom clothing, expensive properties and renovations for his Hamptons estate. Then his work in Ukraine dried up -- and he had to lie to banks to keep up his rich lifestyle, prosecutors said.
Manafort's Aug. 21 convictions included five counts of filing false tax returns, which carry with them the prospect that Ellis could levy fines and penalties on Manafort based on his failure to disclose more than $15 million in income to the Internal Revenue Service.
"The tax loss for the five counts is an astronomical amount for sentencing purposes," said former tax prosecutor Rossi. Manafort could be ordered to pay $5 million to $7 million in back taxes, plus penalties and interest, he estimated.
If Manafort is found guilty in Washington of conspiracy to launder money, the court could order him to forfeit financial assets. The prospect of those bills also puts Manafort's ability to continue defending himself under threat.