Manafort State Case Dismissed in Blow to N.Y. Pardon Defense
(Bloomberg) -- Former Trump campaign chief Paul Manafort won dismissal of a New York state mortgage-fraud case that might have kept him behind bars even if President Donald Trump pardoned him for his federal crimes.
State Supreme Court Justice Maxwell Wiley on Wednesday granted Manafort's request to dismiss the charges because the state indictment overlaps with two cases brought by Special Counsel Robert Mueller that put Manafort in prison. Manafort, 70, is serving a total of 7 1/2 years.
Because Manafort's prior convictions were at the federal level, some critics of the president suspect he would use his clemency powers to release Manafort from U.S. custody. The New York case, if it had resulted in a conviction, would have required a state prison sentence that would be beyond the president's pardoning power.
The state vowed to appeal.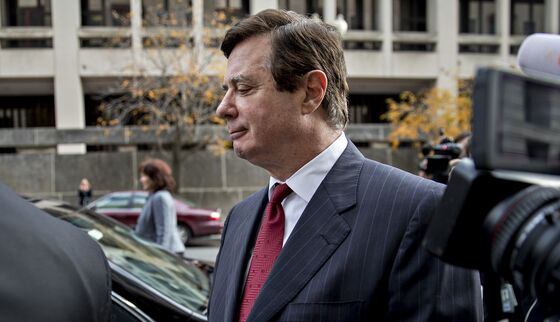 Trump has spoken highly of Manafort -- who, unlike former Trump lawyer Michael Cohen, didn't implicate the president in any crimes -- and, in public statements, hasn't ruled out the possibility of a pardon. Cohen is serving a three-year term.
"We will appeal today's decision and will continue working to ensure that Mr. Manafort is held accountable for the criminal conduct against the people of New York," Danny Frost, a spokesman for Manhattan District Attorney Cyrus Vance Jr., said in a statement.
Manafort's lawyers argued that New York's broad double-jeopardy law protects defendants from multiple prosecutions for the same conduct, even if they were charged in other jurisdictions or by different government authorities. They've suggested that state prosecutors should be barred from prosecuting their client.
"This indictment should never have been brought, and today's decision is a stark reminder that the law and justice should always prevail over politically motivated actions," Manafort's lawyer Todd Blanche said in a statement.
Vance's office argued the state case contained a number of charges for which Manafort wasn't previously prosecuted and fit squarely into New York state law exceptions to the double jeopardy prohibition.
The district attorney brought the case in March, accusing Manafort of defrauding three banks of more than $20 million by making false statements on mortgage applications about property and by understating his debts by falsely claiming that a $200,000 purchase of New York Yankees tickets was made by an associate.
The case was brought shortly after Manafort was sentenced in federal court, where he'd been found guilty of conspiracy and tax fraud in two cases prosecuted by Mueller.
Wiley, the state Supreme Court justice, said in a 26-page ruling on Wednesday that state prosecutors conceded the crimes charged in their indictment "are based upon the same acts and criminal transactions as those underlying the federal indictment." He noted that some of the counts brought by New York were similar to those in one of two federal prosecutions of Manafort in which a jury failed to reach a verdict, and called Manafort's case a "unique set of facts."
Wiley noted that U.S. District Judge T.S. Ellis III had permanently dismissed those deadlocked counts in March after Manafort reached a plea deal with the U.S., but said Ellis nevertheless considered the actions when determining Manafort's sentence. Wiley concluded that Manafort could be viewed as having been previously prosecuted for "the same acts and criminal transactions as those underlying the federal indictment."
The state's argument that the dismissed federal charges had authorized New York to bring a new case "strains reason," Wiley wrote. "In fact, Judge Ellis expressed doubts that the hung counts could ever be resurrected -- and added that was not 'his problem.' Such language can hardly be interpreted as authorizing a new prosecution."
Manafort was convicted in August 2018 of lying to tax authorities about tens of millions of dollars he earned as a political consultant in Ukraine and misleading banks about his financial health to get loans. He later pleaded guilty to conspiring to lobby illegally for Ukraine, to launder money to support a lavish lifestyle, and to tamper with witnesses.
Manafort is in prison in Loretto, Pennsylvania, and isn't due to be released until Christmas Day 2024. He was hospitalized on Dec. 12 after a spike in his blood pressure that has been resolved, his attorney Kevin Downing said.