Manafort's Russian Aide Communicated With Ex-U.S. Officials
(Bloomberg) -- Paul Manafort's longtime business associate, whom Special Counsel Robert Mueller says has ties to Russian intelligence services, interacted with former U.S. State Department officials, according to a revised court transcript.
Konstantin Kilimnik, who worked with Manafort for a decade on political campaigns in Ukraine, had "communications with former high-level State Department officials," Manafort attorney Kevin Downing said at a Feb. 4 court hearing. The significance of those communications wasn't clear.
Downing also referred at the hearing to a "302 for an interview of Mr. Kilimnik," suggesting that Kilimnik -- who has been charged in the U.S. but remains at large -- may have been interviewed by FBI agents. The FBI summarizes witness interviews in documents known as 302 reports.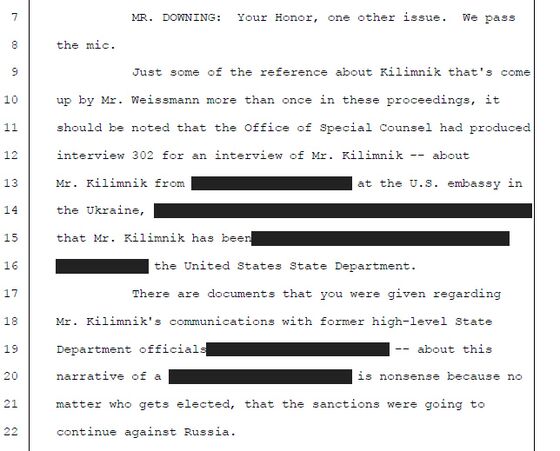 It's not possible from the transcript, which still has many redactions, to determine when the State Department communications or an FBI interview took place. On Thursday, U.S. District Judge Amy Berman Jackson ordered that some phrases in a previously redacted transcript of the Feb. 4 hearing be made public. Those phrases include "at the U.S. embassy in the Ukraine" and "the United States State Department."
She held the hearing to determine if Manafort, the former campaign chairman for President Donald Trump, breached his Sept. 14 plea deal with Mueller.
The disclosure only deepens the mystery around Kilimnik, who was indicted last year with Manafort on charges that he conspired to obstruct justice. Manafort later pleaded guilty to that charge and another conspiracy charge in federal court in Washington.
On Wednesday, Jackson ruled that Manafort breached his plea agreement by lying during debriefing sessions about three areas, including his interactions with Kilimnik.
Next month, Jackson will sentence Manafort, 69, to as many as 10 years in prison.