Manafort's Mystery Lender Battles Mueller to Remain Shrouded
(Bloomberg) -- The company that made a $1 million loan to Paul Manafort's family is fighting to keep secret who provided the money, despite requests from Special Counsel Robert Mueller.
In what has become a curious sideshow to Manafort's sprawling legal battles, an obscure Nevada lender says it has a right to be paid back without Mueller asking too many questions. The lender offered to identify the money's source to Mueller if he promised to keep it confidential, according to a court filing on Monday. Mueller refused.
The company, Woodlawn LLC, is now moving to collect anyway. The court shouldn't allow the special counsel's office to run up fees and costs for the company "by engaging in wasteful discovery," the company said in its filing.
The loan came at a perilous time for Manafort, the former Trump campaign chairman, around the time of a raid on his properties. Woodlawn provided $1,025,000 to a Delaware entity controlled by Manafort's wife in August 2017. Manafort himself guaranteed the loan, with a Baxter Street condominium in Manhattan pledged as collateral.
As part of a plea agreement with Mueller's office last fall, Manafort forfeited many of his family's assets to the government, including the Baxter Street condominium. Woodlawn claims it has a "first priority security lien" on that property and now wants to the judge to declare it.
The ultimate source of the loan remains a mystery. Last month, Bloomberg News reported that Woodlawn had installed a Hollywood bit player named Joey Rappa as managing member in 2018. The loan's backer or backers wanted to remain anonymous given the "potential for public embarrassment," and Rappa agreed to assume the role, Keith Berglund, a lawyer for Woodlawn, said in December. Berglund has since replaced Rappa as managing member.
This month, Mueller's office requested more information about who provided the money. Woodlawn's offer to hand over the information confidentially to the special counsel is similar to one made to Bloomberg last month.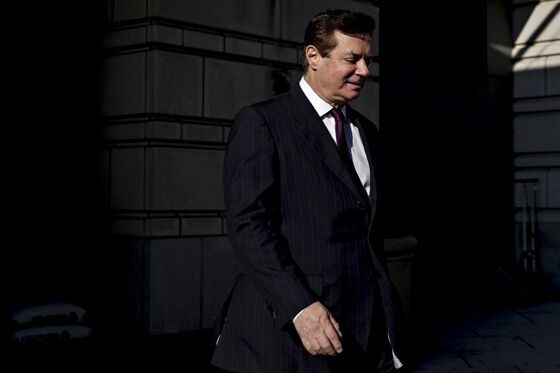 In the papers filed in federal court in Washington, Woodlawn argued that whatever the government might find wouldn't affect its legal interest in the Manafort property.
David Smith, Woodlawn's attorney in the forfeiture case, and Berglund didn't respond to requests for comment on Monday. Peter Carr, a spokesman for the special counsel office investigating Russian election interference, declined to comment.
Prosecutors have said that Manafort was desperate for cash after he stopped his consulting work in Ukraine and joined the Trump campaign in March 2016 at no salary.
Manafort, 69, was convicted last year by a Virginia jury of tax and bank fraud and then pleaded guilty to conspiracy in Washington. He awaits sentencing in both cases.
Negotiations about the loan began in March 2017, before Manafort was arrested or convicted of any crime. The parties agreed to terms in July, Woodlawn said. The mortgage agreement was signed on Aug. 7, a few weeks after Manafort's Virginia house was raided by the FBI but before news of the raid was made public.
"Woodlawn decided to go ahead with the loan because Woodlawn's investors were worried that the Manaforts could sue them for breach of contract," the lender wrote in its filing. "This was an arms-length loan at a market rate of interest by a legitimate lender, not a sham."
Rappa, a production associate on "The Nutty Professor" and a former assistant to Keanu Reeves, was briefly made managing member of Woodlawn because "he did not have a high public profile nor any known associations with anyone who was of interest to the special counsel," Berglund said in December.
When Rappa was selected, Berglund didn't know that he was working on a movie with Andrew Intrater, an American financier who is a cousin of Russian billionaire Viktor Vekselberg, Berglund said.
Intrater is chief executive officer of Columbus Nova, a New York-based investment firm that has managed money for Vekselberg's Renova Group. Intrater attracted attention last year over his $250,000 donation to Trump's inauguration and Columbus Nova's half-million-dollar payment for consulting services to a company set up by longtime Trump lawyer Michael Cohen. Intrater and Vekselberg have been interviewed by Mueller's office. Neither has been accused of wrongdoing.
Intrater had nothing to do with the Woodlawn loan, his lawyer and Berglund have said. Rappa severed his ties with Woodlawn in December, following inquiries from Bloomberg.
Berglund said last year that Rappa's involvement in Woodlawn amounted to a "highly unfortunate favor he did for me."