Emerging Markets in Phase of Defaults and Volatility, Man Group Says
(Bloomberg) -- Emerging markets have entered an era of increased volatility and more defaults, according to Lisa Chua, a money manager at Man GLG, which boasted this year's top developing-nation debt fund.
The fund dodged the worst of the market selloff by taking a defensive approach, trimming exposure to some of the most volatile nations and holding shorter duration debt, Chua said. Investors underestimated the impact of an end to quantitative easing, rising supply in the U.S. Treasury market and more idiosyncratic risks from China to Mexico. Man Group declined to comment on the fund performance.
"We're entering a new market paradigm," Chua said in an interview from her office in New York. "You can't look at the recent past and think that the tailwinds you had for EM will continue."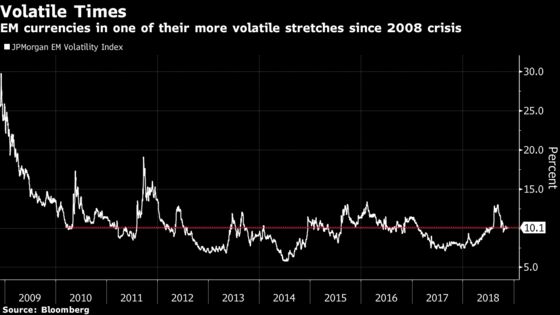 Still, the selloff has created "pockets of value" in some of the stabler developing nations with floating exchange rates, Chua said. The Argentine peso, which has led global losses this year, is looking more attractive after President Mauricio Macri's government secured the International Monetary Fund's largest-ever credit line, she added.
"Many investors have been in this buy the dip mentality because they got used to a one-directional market that has benefited from QE and easy money," Chua said. "In an environment where you don't have that and have much more volatility and potentially more land mines to avoid, you have to be much more dynamic."
The risk premium to hold emerging-market sovereign bonds over U.S. Treasuries climbed on Tuesday to 387 basis points, according to data compiled by JPMorgan Chase & Co.
On why she's largely staying defensive
"We're still defensively positioned and cautious about adding back risk too aggressively. On the hard currency side for EM, the EMBIG is down a little over 5 points YTD. That's driven largely by the upward move in U.S. rates. Spreads were coming off an extremely rich starting point. A large part of the adjustment for EM is off of that rate retracement and we think spreads have more to go."
"On the local market side, there are potential opportunities where we feel you can get paid for the risk."
On default risks amid Fed tightening
"In a period of notable QE, the market was forgiving in who they gave money to. In a market with developed market yields adjusting and a higher premium for liquidity, the market may not be as forgiving in who they rollover debt and give money to. And if you have more defaults, you won't necessarily be able to convert yield into return."
On the need to differentiate within emerging markets
"The majority of the EM universe is composed of bellwether countries. They have floating FX regimes and can potentially adjust. They can weaken their currencies for their current accounts to improve. These countries can potentially navigate a storm."
"In the other bucket are fragile nations and high risk frontiers. The outlook for these countries is much more challenging and binary as they are dependent on cheap market financing and/or IMF deals."