Mali's President in Final Stretch for Second Term in Runoff Vote
(Bloomberg) -- Malian President Ibrahim Boubacar Keita will probably win a second mandate in elections on Sunday when he faces the same politician he defeated in a presidential vote five years ago even as criticism mounts of his failure to tackle a rising tide of Islamist militant violence.
Known as IBK, 73-year-old Keita won the first round on July 29 with 41 percent of the votes, securing a comfortably large margin but not enough to win an outright majority. His main opponent, 68-year-old Soumaila Cisse, got 18 percent of ballots cast, and so far hasn't been successful in uniting a fractured opposition to back him.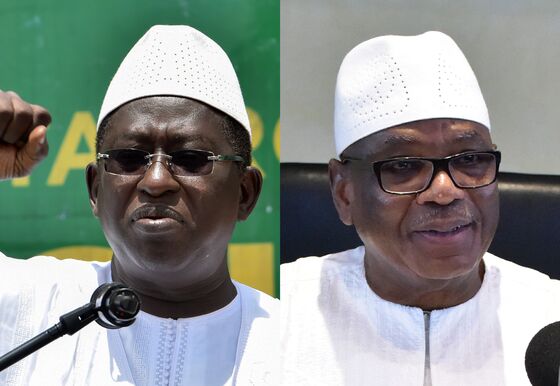 The front-line in a regional war against jihadists whose bombings and hit-and-run attacks are growing more sophisticated by the month, Mali's failure to quash a fractured Islamist insurgency has reverberated across West Africa. While support for IBK has declined, analysts say a lack of strong opposition figures who aren't part of the political establishment has helped him gain votes.
Despite five years of mounting public frustration with IBK's failure to stem corruption and reverse the spread of Islamist militancy, he's still likely to win a second five-year term. Cisse served long enough in government for voters to be wary of him, said Mamouni Soumano, head of the advocacy organization Malian Center for Dialogue and Democracy. "Keita is hugely unpopular, but many see Cisse as not much better," Soumano said.
Mali fractured when Tuareg separatists and Islamist insurgents, benefiting from a massive influx of weapons from Libyan arms stocks, seized the north of the country in the wake of a coup that left the army in tatters. Months after a French military intervention that pushed back some insurgents, IBK won an election on pledges to take back control of the north.
Five years on, hundreds of United Nations peacekeepers and Malian troops have died in jihadist attacks, and the insecurity has spread to Mali's more densely populated center and spilled over into Burkina Faso and Niger. Despite a surge in military spending -- almost a quarter of the 2017 budget went to defense -- the influence al-Qaeda-affiliated militants and other armed groups has only expanded.
Social Discontent
Mali is the third-biggest gold producer in sub-Saharan Africa and the continent's largest cotton grower. While the economy expanded 5.3 percent last year, poverty remains high and social discontent is growing, the International Monetary Fund said in May. In 2017, Malians' main priorities were food security, good governance, access to health services and drinking water, but most said their government wasn't performing well on these issues, according to the latest Afrobarometer survey.
In a statement following the announcement of the provisional results, Keita said his win reflected the positive balance sheet of his first term. "Mali is moving forward," he said. "We have rebuilt the foundations of the house."