Mali's Opposition Pledges to Accept Presidential Election Result
(Bloomberg) -- The Malian opposition coalition, which backed President Ibrahim Boubacar Keita's strongest rival in Sunday's first round of a presidential election, said it will accept the poll's outcome even as disruptions prevented some voters from casting their ballots.
While the vote proceeded on time and peacefully across most of the country, gunmen burned ballots and threatened members of the public and staff at some stations in the center and north. Voting didn't take place at 716 out of about 23,000 polling stations, according to a statement from the office of Prime Minister Soumeylou Boubeye Maiga.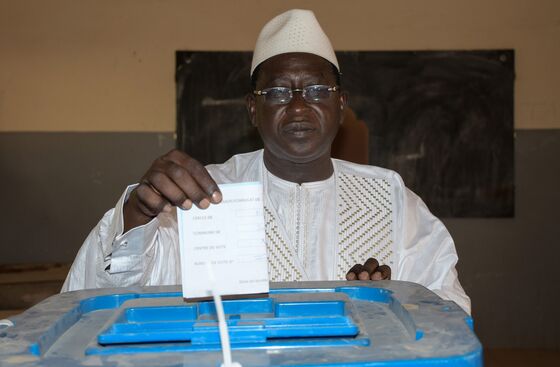 "We have decided to accept the result and started preparing for the second round" even though the election wasn't well organized, Nouhoum Togo, a spokesman for parties backing Soumaila Cisse, said by phone on Monday. Keita and Cisse are contesting the poll with 22 other candidates.
Cisse, 68, is a former finance minister who campaigned with the help of Youssouf "Ras Bath" Bathily, the leader of a citizen's movement that mobilized tens of thousands of young people in protests last year. Keita asked voters for a second five-year term in a country that is the front line in a regional war against jihadists, whose bombings and hit-and-run attacks are growing more sophisticated by the month.
Voter turnout was 37 percent, according to estimates of a Malian citizenry observer mission, Pocim.
The counting of ballots is underway with first results expected by Tuesday. The winner needs 50 percent plus one vote to avoid a run-off due Aug. 12.