Mali Coup Talks Hit Impasse Over Transition to Civilian Rule
West African leaders have made scant headway in their efforts to ensure Mali swiftly reverts to civilian rule after President Ibrahim Boubacar Keita's ouster by a military junta.
Talks between the junta's leaders and envoys from the Economic Community of West African States ended Monday without resolving when the military will arrange elections or release Keita, who's been in captivity since his arrest on Aug. 18. Regional heads of state are expected to meet Wednesday to chart a way forward.
"Our advice is that the transition doesn't drag on," Nigerien Foreign Minister Kalla Ankourao told Radio France Internationale late Monday. "We want a civilian at the helm of a transitional authority or at least a retired army officer. They proposed two years this morning. We think this is too long."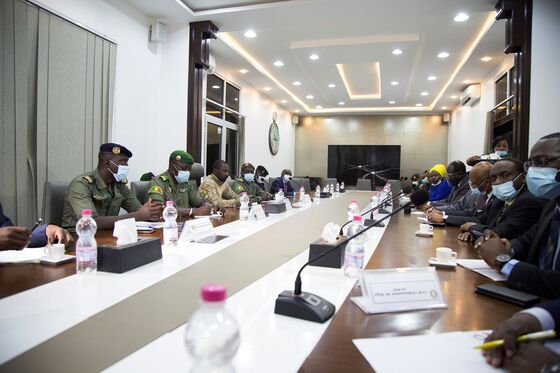 Keita, 75, dissolved his government and resigned under pressure from soldiers who detained him hours after staging a mutiny at an army barracks on the outskirts of Bamako, the capital. Further instability in Mali could be exploited by Islamist insurgents in the north who've staged increasingly violent attacks in the region, despite the presence of a 15,000-strong United Nations peacekeeping force.
The junta wants political parties, civil society, religious groups and the army to decide on the timeframe and structure of the transition, spokesman Ismael Wague told reporters on Monday.
"We haven't decided anything for now," Wague said, denying reports that the junta plans to head the transition. "It is the Malians together who will decide."
Ecowas is unlikely to agree to the junta's demand that a transitional authority headed by a military officer rule Mali for a period of up to half a presidential mandate, said Jose Luengo-Cabrera, Sahel researcher for the International Crisis Group.
"The turn of events in Mali is a cautionary tale for the region," he said in a written response to questions. "In a region that has been in turmoil for years, spillover of conflict often affects formal politics. "The military junta should concede to a more reasonable timeline for talks."
Leaders in neighboring Burkina Faso, Chad and Niger have been unable to tackle their security, political and economic woes amid growing popular discontent.
Ecowas, which has failed in previous attempts to mediate an end to Mali's political crisis, has suspended the nation from all its decision-making structures. It's also urged its other 14 member nations, which include Nigeria, Ivory Coast and Senegal, to halt financial flows with Mali and shut shared land and air borders.
If the junta continues to insist on a two-year transition and fails to strike a compromise with Ecowas in the coming days, it risks losing popular support as economic sanctions start to bite, said Kalilou Sidibe, a political science and law professor at the University of Bamako.
"The junta might have the people's support at the moment, but its position remains fragile," he said by phone. "The situation could destabilize. Another group or military faction could threaten the junta as we saw in 2012," when soldiers threatened a counter-coup against army officers who had overthrown President Amadou Toumani Toure, Sidibe said.
Members of the M5-RFP opposition coalition that organized mass protests calling for Keita's resignation are considering backing a transition period until 2023, when Keita's term was due to end.
"Holding rushed elections before electoral and constitutional reforms, risks deepening the political crisis," Sy Kadiatou Sow, a former foreign minister and member of the coalition, said by phone from Bamako.