Malaysian Leader Says Trump's Style Doesn't Work Well in Asia
(Bloomberg) -- Malaysian Prime Minister Mahathir Mohamad said President Donald Trump's diplomatic style is undermining U.S. efforts in Asia and he made a tongue-in-cheek prediction that China can outlast America in the latest trade dispute between the world's two biggest economies.
"He changes his views even in a manner of hours," Mahathir said of Trump on Wednesday during an event at the Council on Foreign Relations in New York. "Dealing with people who are not consistent is a big problem."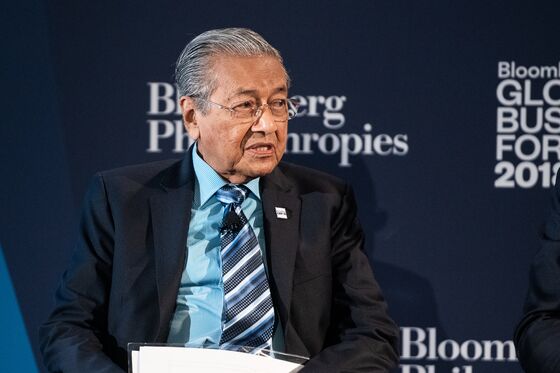 Mahathir said China has history on its side as it nears full-on trade war with the U.S., and he blasted Trump's proclivity for sending what he says are mixed signals to the region.
"China has been there for 4,000 years," he said. "One has to learn to live with China."
Mahathir, 93, was elected in May as the Southeast Asian nation was embroiled in scandal over corruption allegations against now former Prime Minister Najib Razak. On the campaign trail, he voiced concerns over Chinese investment in the country. Mahathir previously served as prime minister from 1981 to 2003, making him the nation's longest-serving premier.
Najib has pleaded not-guilty to 25 charges, including allegations that he received 2.08 billion ringgit ($503 million) in bribes related to the issuance of a government letter of support for a bond issue by state-run fund 1MDB. Mahathir has set himself a target of recouping $4.5 billion that he said was squandered through the troubled state fund.
The Malaysian leader has also pledged to end deficits and corruption in the country, and said he was forced to terminate a Chinese-led project to build a railroad on Malaysia's eastern coast because it was a bigger benefit to China than Malaysia.