Malaysia's Najib Takes to Social Media to Defend Record
(Bloomberg) -- Former Malaysian Prime Minister Najib Razak is taking to social media to defend his economic record, denying his administration manipulated national debt levels and warning the new government against spooking the markets.
"The 'spade' had always been called a spade," Najib said on Facebook on Friday, hitting back against Finance Minister Lim Guan Eng who said new leaders will tell the truth of Malaysia's debt situation. "The previous government had always complied with international public debt reporting guidelines as defined by the IMF and World Bank."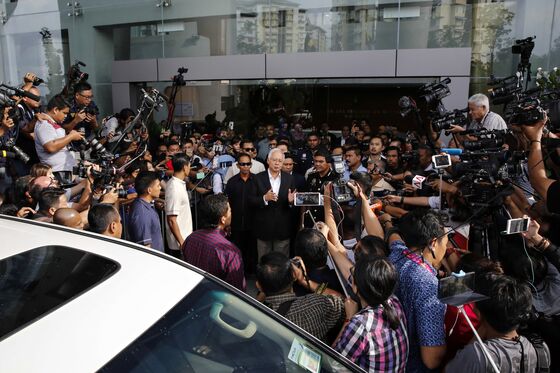 Lim on Thursday gave a breakdown of government debt and liabilities exceeding 1 trillion ringgit ($251 billion). While the federal debt figure of 50.8 percent of gross domestic product matched previously reported numbers, Lim said government guarantees and lease payments for public-private projects took total debt to 80.3 percent of GDP.
Najib has been the focus of public attention as Malaysia ramps up its probe of alleged embezzlement and money laundering linked to 1MDB, the state investment company that took shape under his watch. Police said on Friday they had seized about $29 million in cash, hundreds of handbags, as well as jewelry and watches in raids on premises linked to Najib and the investigation into 1MDB.
As news and images of the raids circulated last week, Najib posted a picture of himself on Twitter having his blood pressure taken. Leaning back on a blue sofa, he said the routine check showed a "normal" reading and that the fasting month of Ramadan -- the holiest for Muslims -- comes with all sorts of tests from God. Another time, he tweeted a verse from the Koran that translated to "God is with those who are patient."
With Malaysia's mainstream media -- which used to cover Najib and leaders in his Barisan Nasional coalition extensively -- now following the Pakatan Harapan government closely, it's left Najib mostly with social media to say his piece. He had been an active user, regularly tweeting selfies with other world leaders.
On May 20, he headed to his parliamentary constituency of Pekan, where he had defeated his nearest opponent by almost 25,000 votes. There, he tweeted another picture -- one of himself smiling and stirring a pot of rice porridge while supporters surrounded him and gave him a thumbs-up.