After Clashes, Maduro's Enemies Grope for a Strong Punishment
(Bloomberg) -- During a weekend of tough talk and bitter fighting on Venezuela's borders, the U.S. government pledged concrete steps to restore democracy. On Monday, it issued largely symbolic sanctions while allies produced only a strongly-worded statement.
As options to punish the Caracas government dwindle, delegates of the Venezuelan opposition and Latin American governments meeting in Bogota called for the International Court and the U.N.'s human rights commission to investigate the government of Venezuelan President Nicolas Maduro.
Maduro is clinging to power a month after the U.S. recognized National Assembly leader Juan Guaido as the legitimate president. While the opposition wants to bring the confrontation to a head soon, they may have to resign themselves to a war of attrition as oil sanctions bleed Maduro of resources.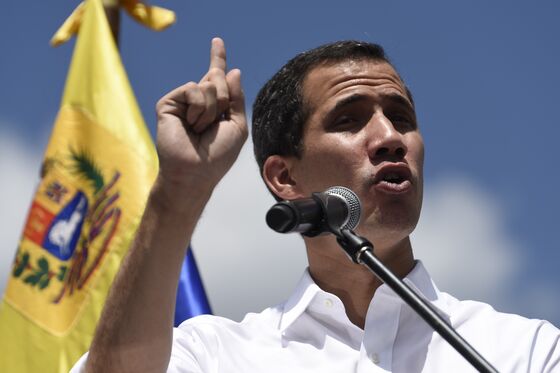 How long that takes to topple the regime -- or whether it does -- is anyone's guess. Guaido, who attended today's meeting, appeared to accept that getting rid of Maduro may be a protracted task. "The regime has to know that the diplomatic siege is just starting," he said.
After the U.S. imposed oil sanctions last month, there isn't much else it can do to accelerate Maduro's ouster short of military intervention, and the new measures are "not a game changer", said Oliver Stuenkel, professor of international relations at Fundacao Getulio Vargas in Sao Paulo.
The Lima Group countries have limited influence, because their trade ties with Venezuela are so small, he said.
"Maduro could go on for quite a while," Stuenkel said. "As long as he can feed the generals and his key support groups, he could stay in power."
Ten Latin American countries plus Canada joined in the declaration, while founding Lima Group member Mexico failed to sign.
U.S. Vice President Mike Pence, who visited Bogota on Monday, called on more nations to freeze the assets of state oil company Petroleos de Venezuela SA after the regime blocked international aid convoys over the weekend. The U.S. has already effectively blocked the regime from exporting oil to the U.S. and Pence asked all members of the Lima group -- which includes Canada and Mexico -- to follow suit by freezing PDVSA assets.
Pence said Monday the U.S. would impose stronger financial sanctions against the regime in the days ahead and pledged an additional $56 million to support efforts to aid refugee Venezuelans.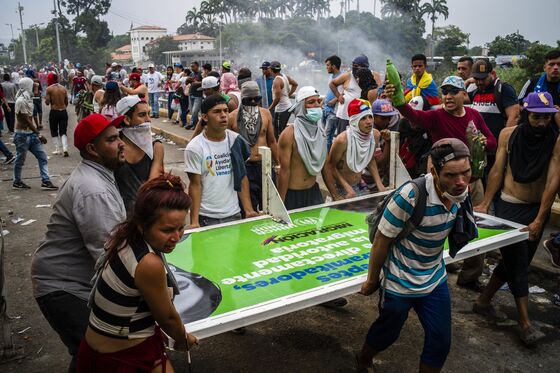 On Saturday, a failed attempt to deliver humanitarian aid to the near-starving nation led to clashes on Venezuela's borders with Colombia and Brazil. Maduros' security forces repelled the food and medicine, saying the initiative was a pretext for invasion.
The Trump administration will impose sanctions on Venezuelan state governors Omar Jose Prieto Fernandez, Ramon Alonso Carrizalez Rengifo, Jorge Luis Garcia Carneiro and Rafael Alejandro Lacava Evangelista, all allies of Maduro who run regions along the country's border, according to a statement released by the administration.
The Lima Group said in its declaration that it wants a peaceful transition "without force" in Venezuela, while Pence reiterated his government's position that "all options are on the table."