Maduro's Chosen Opponent Makes Himself at Home in Guaido's Lair
(Bloomberg) -- The Venezuelan National Assembly offices currently occupied by lawmaker Luis Parra lie down hallways, past a dozen stern-faced guards in khaki, through security checks and up flights of white stone steps.
Inside the sanctum that recently belonged to opposition leader Juan Guaido, Parra is trying to solidify his position as strongman President Nicolas Maduro's approved dissenter. On Friday, beginning one of his first interviews since staking his claim, Parra pulled a pair of chairs together and walked from behind the large oak table he inherited, so "it doesn't feel like I'm lecturing."
Parra, 41, who claims he's taken over from Guaido as president of the chamber, was once his ally but has been embraced by Maduro in an apparent bid to shove Guaido aside.
Parra was elected in a Jan. 5 voice vote taken amid chaos as armed guards barred Guaido and supporters. Guaido, recognized as the former petro giant's rightful leader by the U.S. and scores of other nations, then took his followers off-site and was elected in a separate vote. He's declared Parra a "traitor."
State television, which rarely broadcasts opposition events, transmitted Parra's swearing-in live. Since Sunday, both Maduro and his deputy Diosdado Cabello have recognized Parra as the assembly's new authority.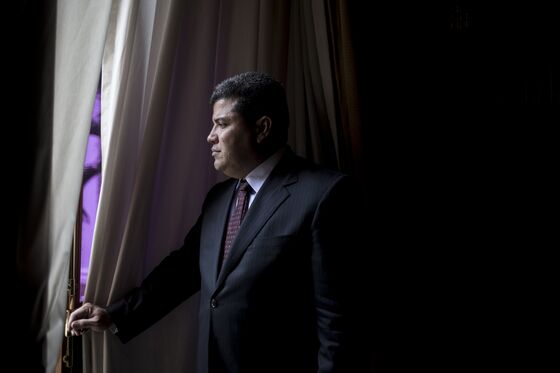 His new environment appears like that of any other Venezuelan politician on the make: On Friday, a secretary announced the arrival of athletes who've come to meet him for lunch, deputies came in and out, taking phone-calls in hushed voices. A couple of men who were never introduced -- presumably security -- sat in a corner the whole time.
Parra said he had "a permanent channel of communication" with the U.S. since he claimed the presidency of the assembly. He refused to give details about whom he's talking with, yet hinted at communications without the official middlemen.
"The United States is a large place, with a large diplomatic body, and isn't closed to anything," said Parra.
Elliott Abrams, special envoy to Venezuela for the U.S. government, said Parra's assertions about communication with the U.S. were "absolutely false."
After months of rancor, U.S. Secretary of State Mike Pompeo said Thursday that Venezuela's political camps should negotiate to form a transitional government and organize free elections. A Norwegian delegation is visiting Venezuela to seek a way forward, but opposition members aren't participating in any meetings.
Besides replacing Guaido, Parra's intentions as self-proclaimed assembly leader are unclear. When asked about specific proposals, he said: "We're normalizing things, we have to clean house first."
Parra said he blames Maduro for the country's deep economic crisis, runaway inflation and rampant food and gasoline shortages.
"He must present himself to this body, recognize us and face the country, tell them why the country has been hungry for so long," Parra said. Yet when asked why socialist lawmakers loyal to Maduro supported him, Parra said they feel "identified" with him.
The attempted takeover of Venezuela's last remaining democratic institution has reignited the country's political standoff. Guaido's popularity had declined after a wave of protests and an attempted uprising failed to topple Maduro's authoritarian regime, leaving no end in sight to hyperinflation, economic collapse and a humanitarian crisis.
While Parra said individual sanctions were merited for corrupt politicians, he said general sanctions, including ones that prohibit exports of oil to the U.S. weren't effective. Parra, who has been targeted by a legislative graft investigation, denied any corrupt involvement of his own.
"Sanctions have given Maduro's regime rhetoric for the failure of his management," he said. While Maduro is in the presidential Miraflores palace, "the whole country is in line for gasoline. So, who's being really affected by sanctions?"
Parra said that destiny has placed him where he is.
"God's timing is perfect," he said. "And God's timing is now."