Maduro Regime Strips Immunity From Five More Opposition Lawmakers
(Bloomberg) -- Venezuela's socialist regime widened its crackdown on opponents who allegedly backed last month's failed attempt to topple President Nicolas Maduro, stripping five more lawmakers of their immunity from prosecution.
The congressmen are among about a dozen key allies of Juan Guaido, the head of the powerless National Assembly who says he is the nation's rightful president, being probed for crimes including treason and conspiracy. Last week, intelligence police arrested Edgar Zambrano, the assembly's vice president, sending many prominent politicians who supported Guaido's April 30 call for insurrection into hiding, exile or to foreign embassies seeking asylum.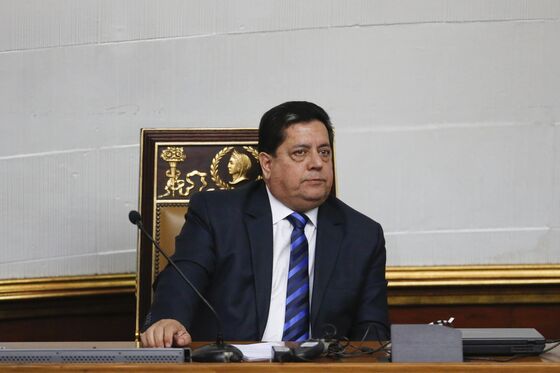 The revolt sputtered just hours after it began when top military brass refused to join about two dozen guardsmen, who appeared outside a Caracas airbase with opposition leadership, and break ranks. Since then, authorities have initiated one of the most aggressive round up of government foes to date, pursuing soldiers, lawmakers and civilians who took to the streets or are suspected of playing a role in the failed overthrow.
Regime Pressuring Opposition
Members of the opposition-dominated National Assembly are protected from criminal prosecution but the institution has lost nearly all its functions in 2017, when Maduro created the so-called Constituent Assembly, an all-powerful body filled with socialist party faithful. After April 30, the legislative super body has nullified the immunity of roughly 12 lawmakers, and signaled a investigation can proceed against two stand-in legislators.
"Let the law do what the law needs to so that there can be justice," Diosdado Cabello, president of the Constituent Assembly said Tuesday as members voted unanimously to act on the latest recommendation of Venezuela's top court, also packed by and loyal to Maduro.
Maduro says his opponents attempted to launch a coup d'etat. Guaido, who is recognized by the U.S. and 50 other nations as Venezuela's legitimate head of state, counters he and his allies are trying to restore the rule of law to a nation that is wracked by hyper-inflation, hunger and rampant corruption.
During Tuesday's session broadcast Tuesday on state TV, Maduro's Constituent Assembly stripped National Assembly members Sergio Vergara, Freddy Superlano, Juan Andres Mejia, Carlos Paparoni and Miguel Pizarro of their immunity. Two more stand-in legislators, Franco Casella and Winston Flores, will also be investigated, but Cabello said they that as stand-in lawmakers they don't have immunity
Guaido told reporters that the latest crackdown is part the government's efforts to shutter the National Assembly, the only institution controlled by Maduro's foes. Intelligence police prevented lawmakers from holding session earlier in the day, but Guaido said his allies remained unbowed.
"The regime is doing harakiri and is in a stage of collapse," he said.
The 35-year-old lawmaker invoked Venezuela's charter to launch an interim government and kicked off a wave of national protests in January. Guaido rapidly won international recognition after his rival began another six-year term following 2018 elections that were widely regarded as rigged.
Authorities stripped the opposition leader of his parliamentary immunity last month after he violated a court order by touring Latin American nations that support regime change in Venezuela. While they have stopped short of touching him directly and instead moved against much of his inner circle, there's a growing sense among the opposition that he could be among the next targets despite the potential international repercussions.