Maduro Hikes Minimum Wage, Pledges to Boost Venezuela's Oil Output
(Bloomberg) -- Venezuela's President Nicolas Maduro ordered a 300 percent increase in the monthly minimum wage and pledged to boost oil production to 5 million barrels a day by 2025 during his state of the union address Monday.
The salary increase will go into effect this week, Maduro said in a nearly four-hour long broadcast from the country's national constituent assembly, after raising it six times in 2018. Even so, the new 18,000-bolivar monthly wage is just enough to buy 1 kilogram of ham and amounts to about $7 at the black market exchange rate with annual inflation running at about 240,000 percent.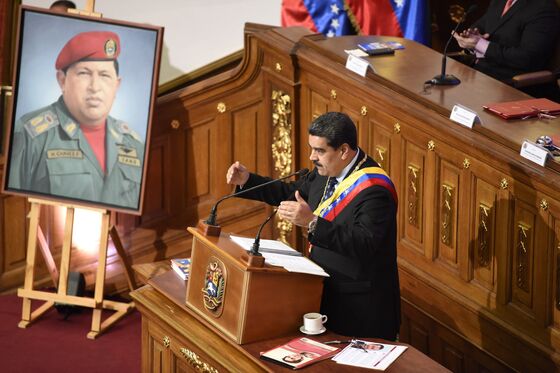 During his address, Maduro said investment from nations such as China, Russia, Turkey and Qatar could help rebuild local industries. "I'm not a wimp, nor a capitalist, but I'm not obtuse," Maduro said. "If someone offers to bring private capital or offers advice to recover a company, should I not take it?"
Since taking office in 2013 following the death of longtime leader Hugo Chavez, Maduro has repeatedly failed in his efforts to overhaul the country's economy. Unwilling to implement tough measures -- like significantly reducing fuel subsidies -- the administration has resorted to policies that essentially just seek to paper over the problem.
The president's pledge to restore the energy industry also faces considerable headwinds. With oil production plunging toward 1 million barrels a day, the lowest in seven decades, Venezuela would have to more than triple output during Maduro's coming six-year term to reach his target. The central bank received $4.1 billion in foreign currencies from state-oil company PDVSA last year, he said, less than half the level of 2015.
"I personally will take on the responsibility to increase production in all our fields," Maduro said. "I'm betting my life, my honor, for this battle."