Macron Vows to Face Down 'Very Violent' Riots to Change France
(Bloomberg) -- French President Emmanuel Macron said he won't retreat or undo reforms in the strongest signal yet that he won't back any further away from his agenda as his office warned of new days of turmoil and violence.
The 40-year-old leader sent a law and order message that will be heard by opponents from the Yellow Vests movement to opposition parties leaders ahead of planned actions on Saturday. His words also close the door to demands within his own team to review some measures taken since his May 2017 election, mainly the dilution of the wealth tax.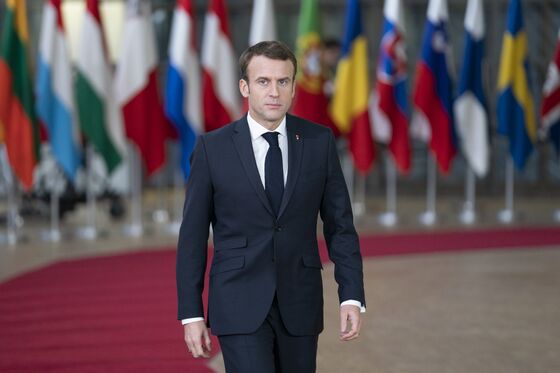 Macron's position, confirmed by the Elysee presidential palace, come as protesters plan another day of action on Dec. 8. His office expects a movement "of great violence," France Info radio reported. Prime Minister Edouard Philippe said in Parliament Wednesday authorities will "be uncompromising" in the face of violence.
The problem for Macron is that having shown a flash of weakness in suspending a planned fuel-tax hike, his tough talk won't carry the same weight as before.
Paris has been rocked by violence over the past two weekends, with images of burning cars, broken stores windows and clashes between the police and demonstrators making the rounds worldwide. The Elysee palace expects "a hardcore group of several thousands of people" in Paris, France Info reported, citing Macron's office.
Opponents of Macron have criticized his response to the crisis: suspending some energy tax increases for six months. That was part of his landmark climate protection policy, which had sparked the protest in the first place. The Republicans' Christian Jacob called the moratorium a "provocation."
Late Wednesday, the president's team said they would cancel planned fuel price increases for next year, according to BFM television.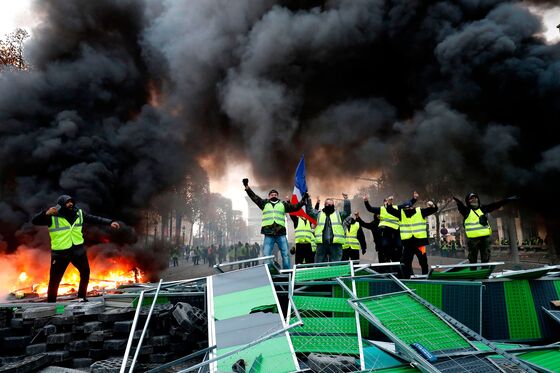 The current responses to his move show how Macron will struggle to put the genie of revolt back in the bottle.
Earlier on Wednesday, Philippe promised he "won't raise new taxes," but added that he also wouldn't "deepen the deficit," without giving details on how he'd reconcile those conflicting goals. Philippe also said that Macron's 2017 election agenda would be maintained and his reforms, including pensions, are still on schedule.
Macron's words echo former conservative Prime Minister Alain Juppe who in December of 1995 said "I stick to my guns." About two million transport workers, from urban transit drivers to high-speed train engineers, had brought the country to a halt over his plan to reform the social-benefits system, impose welfare cutbacks and raise the retirement age for public transport workers. Juppe eventually canceled the reforms on Dec. 15.