Macron Searches for Reinvention Inspiration
For a leader who once said France wanted its president to be God-like, who announced himself with Beethoven's Ode to Joy on election night, Emmanuel Macron has been unusually low-key during the coronavirus pandemic.

And yet the outbreak is wreaking havoc with both his global and domestic agenda to the point it's raising the question — where does he go from here?

As Ania Nussbaum reports, Macron's political capital was already clipped by the Yellow Vest protests against his economic policies that gripped France for months.

In Europe his hectoring of neighbors over various issues, including his attacks on NATO, have worn thin. Globally he failed in his bids to bring U.S. President Donald Trump back to the table on the Iran nuclear accord and Paris climate agreement.
Now Covid-19 has exposed the fractures in his much-cherished multilateral world order. At home he risks a backlash, too: He didn't impose a lockdown until March, when Italy and Spain had already moved. His own officials say the government fumbled early on.

Macron's handling of the crisis puts him in stark contrast to Germany's Angela Merkel, who was quick to implement widespread testing.

Macron himself recognizes his administration fell short. He's evoked the literary castaway Robinson Crusoe, citing his "capacity for reinvention." But it's unclear what exactly the young French leader plans to turn into.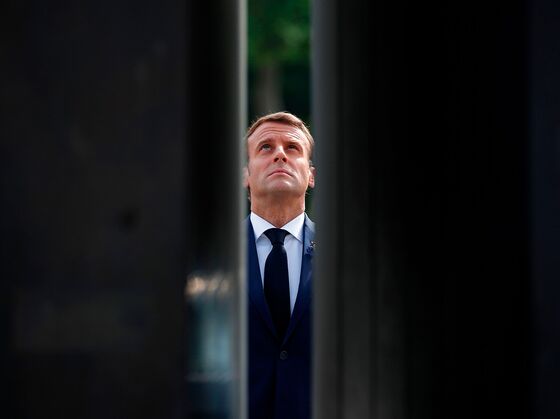 Polling by post | Pandemic-spurred moves toward the U.S.'s first mostly mail-in vote in November may trigger problems that'll reverberate long after Election Day. A tangle of state laws means the public may not know for days or even weeks if Trump or Joe Biden has won. There will likely be charges of cheating, demands for recounts and lawsuits.
Read more about the tricky proposition Trump faces this week, as he tries to convince Americans it's safe to return to work and social life even as the virus moves closer to his inner circle.
You can find the latest global news on the pandemic here.
Authority questioned | With European governments reasserting their power, and the pandemic exposing the European Union's old fault lines, European Commission President Ursula von der Leyen is under pressure six months into the job. Ian Wishart reports some commission insiders are openly questioning whether she's up to the task.
Click here for details on how the European Central Bank is preparing to provide more stimulus despite a court battle over its limits.
And here for an explainer on how the Commission's threats to sue Germany might play out.
Labor pushback | U.K. Prime Minister Boris Johnson faces a battle to persuade businesses and labor unions it's safe to resume operations. Johnson yesterday told people who can't do their jobs from home to return to their workplaces, but failed to give details on transport and safety rules. The governments of Scotland and Wales have said they will keep the "stay at home" advice and ignore Johnson's new "stay alert" message.
Border crossing | China's decision to put a city near North Korea on lockdown due to increased Covid-19 infections raises questions about Pyongyang's claim to be virus-free. Experts believe isolated North Korea likely has cases and worry an outbreak could overwhelm its dilapidated medical system and become a humanitarian disaster.
Belt tightening | Saudi Arabia announced austerity measures overnight including spending cuts and tax hikes to cope with the pandemic and an oil-price rout. The double blow has slashed state revenue and called into question the economic model of the world's biggest oil exporter.

What to Watch This Week
Thanks to all who responded to our pop quiz Friday and congratulations to Don Sinko, who was the first to name Venezuela as the country whose leader accused mercenaries of trying to overthrow its government. Tell us how we're doing or what we're missing at balancepower@bloomberg.net.

And finally ... Connecticut is swabbing corpses at funeral homes. Maryland is testing all nursing-home residents and staff. In New York and New Jersey, virus deaths have surged after the states began disclosing more data on homes for the aged. Coast to coast, governors have intensified efforts to get accurate counts at those facilities, with investigations suggesting far more devastation than initially recorded.