Macron Says He'd Welcome U.K. Back to EU If Voters Change Their Minds
(Bloomberg) -- French President Emmanuel Macron said he'd welcome Britain back should its voters decide in a second referendum to stay in the European Union.
"For sure," Macron responded when asked in a Bloomberg interview at the One Planet Summit on climate change in New York on Wednesday.
Asked about giving up the opportunity of luring London bankers to Paris, he responded: "This is about history, not about domestic interests," though he insisted it's not up to him to decide if Britain holds another referendum.
Speaking on the sidelines of the forum, Macron also insisted he isn't deterred by tumbling poll numbers and intends to pursue his program of modernizing the French economy.
"I have a big advantage, I don't have any mid-terms elections. So I am not driven by polls," Macron said. "I have to reform the country in depth. We will keep exactly the same pace," he said, adding that he's planning to make changes to address the energy sector, unemployment insurance and the pension systems.
He'll have to do it with less political capital. Macron's approval ratings have fallen faster and further than for his Socialist predecessor, Francois Hollande, 16 months into their terms.
Macron argued that his dip in popularity is a price worth paying for having reformed labor markets, corporate taxes and the national rail company at the start of his presidency. He's betting that growth and job creation will pick up in time to boost his reelection hopes in 2022, saying that he's aiming for "long term results."
The French leader has contributed to his unpopularity with a series of gaffes. In a video his team posted on Twitter, the president complained about "the crazy dough" France spends on benefits, fueling his reputation as "President of the Rich."
After brushing off his image problems for months, Macron is now trying to make amends. He has made changes within his communication team and opened up more to the media. He promised that he would focus on "listening to fellow citizens" and has presented a plan to reduce poverty and inequality in France.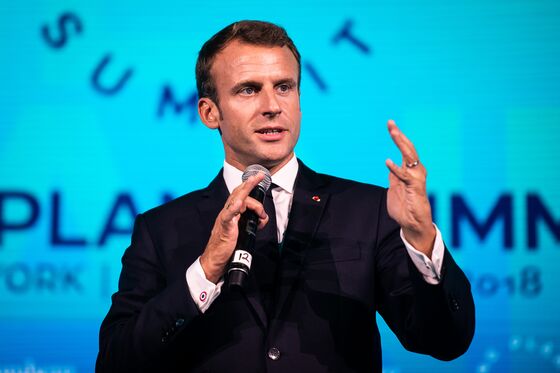 Returning to Brexit, Macron said the pro-leave side "lied" in their campaign. "It costs a lot, it's much more complicated than they initially thought," he said.
The U.K. opposition Labour Party has said it sees a second referendum as a way of avoiding a chaotic no-deal Brexit.
The One Planet Summit Macron spoke at followed the Bloomberg Global Business Forum at the Plaza Hotel in New York. Michael R. Bloomberg is founder and majority owner of Bloomberg LP, the parent company of Bloomberg News.