French-German Treaty Is in Service of European Unity, Macron Says 
(Bloomberg) -- French President Emmanuel Macron said a Franco-German treaty signed Tuesday is aimed at spurring greater European Union integration.
"Our common ambition must be that Europe shields our people from the tumults of the world," Macron said at a signing ceremony in the German city of Aachen with Chancellor Angela Merkel. "Because we love Europe, we have decided to continue to build it with force and determination."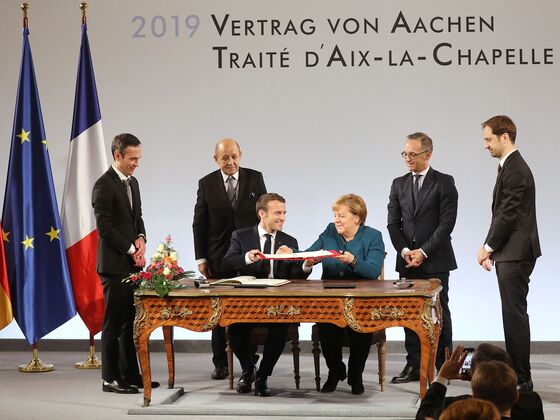 Macron said the dangers facing Europe "come from outside the EU and from within our societies," citing nationalist movements and the British vote to leave the bloc.
Macron also took a swing at domestic opponents from the far right and left who have spread misleading information about the treaty signing away sovereignty over the border region of Alsace or giving away France's seat at the United Nations Security Council. "Those who don't learn the lessons of our reconciliation are accomplices to the crimes of the past," he said.