Macron's Team Is Trying to Steer Him Away From Referendum Gamble
(Bloomberg) -- President Emmanuel Macron's ministers are trying to persuade him not to hold a referendum in France this year.
Macron last week floated the idea of using the European elections on May 26 to also ask French voters to endorse the reforms he wants to draw a line under the Yellow Vest revolt.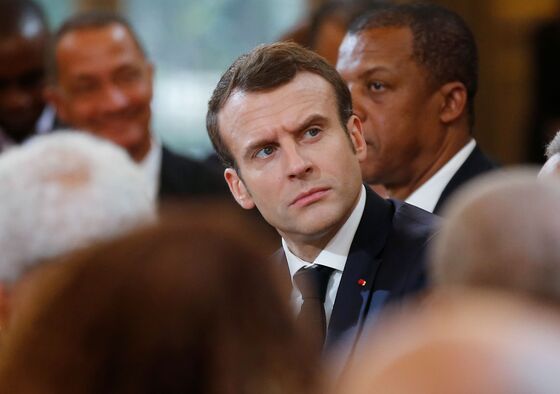 Foreign Minister Jean-Yves Le Drian on Monday urged Macron not to mix up domestic issues with the EU vote. "What's at stake in Europe is enough," he said in a radio interview with France Inter.
Budget Minister Gerald Darmanin said in an interview with Le Parisien published Monday that "it's not the only solution" that could refocus the government. European Affairs Minister Nathalie Loiseau said Sunday that a referendum coinciding with the European vote could "get in the way" and blur the campaign message.
Macron is holding Q&A sessions with people around the country as he looks to persuade voters that he's in touch with their concerns. France has never before combined a plebiscite with the EU ballot.
Recent referendums have of course proved costly for European leaders and damaging to political fabric of member states.
Former U.K. Prime Minister David Cameron quit in June 2016 the morning after he lost the Brexit referendum and his successor, Theresa May, is still struggling to pilot a divided country through the aftermath.
Matteo Renzi also resigned after losing a referendum on constitutional reform for Italy the same year and saw his center-left Democratic Party ousted last year by a coalition combining left- and right-wing populists.
"If Macron was to lose that referendum, he would have to accept the consequences and leave," Philippe Juvin, a European lawmaker for the main opposition Republicans, said.