Macron's New Cabinet Sticks to Familiar Agenda of French Reform
(Bloomberg) -- Emmanuel Macron is changing his people, not his plans.
The French president on Tuesday announced his long-anticipated cabinet overhaul prompted by the Oct. 2 resignation of the interior minister and postponed numerous times.
The reshuffled government will still be headed by Prime Minister Edouard Philippe, since Macron wanted a "renewed team with the same political mandate," his office said. As well as a new interior minister, the changes announced Tuesday see fresh faces at agriculture, culture and territorial cohesion, and enlarged portfolios at education and women's rights.
The limited scope of the government overhaul signals Macron's determination to push ahead with his reform plans regardless of his flagging ratings. The timetable for reform won't change, including a major overhaul of the pensions system in 2019, according to an Elysee Palace official.
There are three main takeaways from Macron's modest reshuffle, according to Jean Petaux, a political scientist a Sciences Po Bordeaux university.
"He's solidifying his alliances with centrist groups by giving them strong positions," said Petaux. "He's putting a very close ally at the Interior Ministry who will prepare the constituencies for the next elections; and he's getting rid of the ministers who were controversial."
In his signature change, Macron brought in Christophe Castaner, the head of his Republic on the Move party, to fill the vacant Interior Ministry post. Castaner is a close ally and adviser to Macron and an early backer during his presidential campaign. Le Monde reported that he will resign from his party post.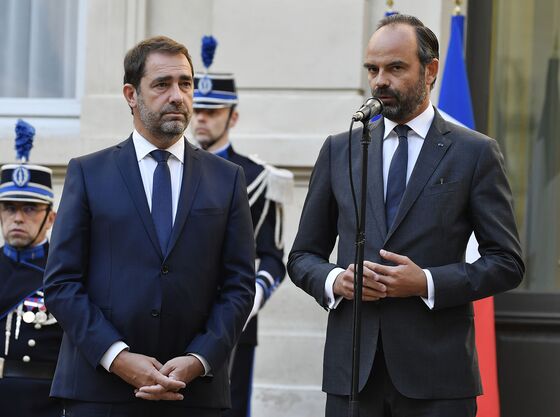 Franck Riester, a center-right lawmaker and founding member of Agir, a new political group set up to renew the French right, was named culture minister. Two other center-right politicians got prominent posts: Jacqueline Gourault will take on a broad Territorial Cohesion Ministry, which will oversee everything from housing to relations with local governments; and Marc Fesnau will take over the ministry for relations with parliament.
Other key ministers kept their posts. Finance Minister Bruno Le Maire, Energy Minister Francois de Rugy, Foreign Minister Jean-Yves Le Drian, Budget Minister Gerald Darmanin, Defense Minister Florence Parly and Digital Minister Mounir Mahjoubi all remain in place.
"So we had 15 days of hesitation for a new government that is only open to his people," opposition Socialist lawmaker Boris Vallaud, a former colleague of Macron in the last administration, said on LCP television. "He has a government of followers when no one believes in the Messiah anymore."
Macron sought a renewed impetus and the personalities chosen, 15 of whom are not professional politicians, represent efficiency and continuity, the Elysee official said. Of the 34-strong government team, 50 percent are women, according to the Elysee.
Support for Macron was hurt over the summer by a scandal over his bodyguard caught on video beating protesters and the shock departure of key members of his team, culminating in the loss of Gerard Collomb, a political heavyweight and one of his earliest backers. The president's approval rating slid around 20 percentage points and is now at about 30 percent, lower in some polls than his predecessor Francois Hollande.
Macron has said in recent weeks that he wouldn't succumb to the "tyranny of the now." In a Bloomberg interview on Sept. 26, the president said he "is not poll driven" and pledged to "keep exactly the same pace" for the rest of his mandate.
Macron reinforced the Economy Ministry with Agnes Pannier-Runacher, who will oversee industrial matters, and the Energy Ministry with the addition of Emmanuelle Wargon. The interior minister will be backed by Laurent Nunez, the head of DGSI, the French homeland security intelligence office.