Macron's Latest Political Blow May Hasten Presidency 'Phase Two'
(Bloomberg) -- Channeling the Emperor Napoleon he so admires, Emmanuel Macron planned his presidential term like a military campaign.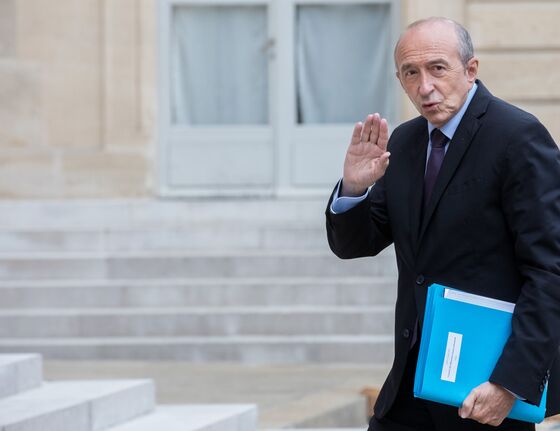 Only his grand designs omitted one thing -- the human factor. The shock resignation this week of Interior Minister Gerard Collomb, the president's most senior cabinet member, confronts Macron with a fresh dilemma: whether to simply replace Collomb or to use his departure as an opportunity to reshuffle his personnel and revisit how he governs.
The case for a root-and-branch approach has become more compelling after a torrid few months that have seen his style of governance ridiculed and his ratings plunge. Collomb's messy resignation over two days was just the latest blow; Energy Minister Nicolas Hulot, a popular figure in France, quit on live radio in August. Both high-profile ministers aimed parting shots at Macron as they left.
"Chaos of news, scandals, personal ambitions, all these very human factors have upended Macron's plans," said Bruno Cautres, a professor at Paris-based Sciences-Po institute. "Either he continues to repair every leak or takes a big step to restore stability."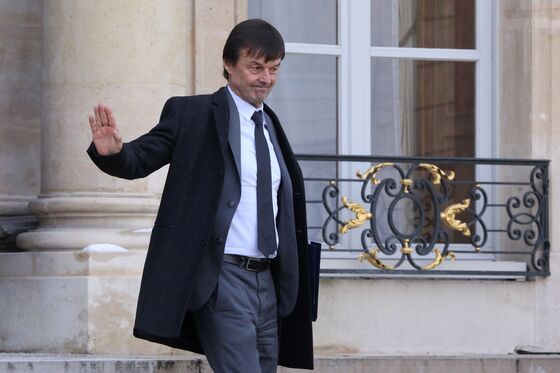 Elected for a five-year mandate with a majority in Parliament and no mid-term elections, Macron should be safe for now. Less than 36 hours after Collomb quit, as he celebrated the 60th anniversary of France's Constitution, Macron praised the presidential system that allows him to continue his reform agenda despite the "tempest, the setbacks" and the "tyranny of the now." The youngest French leader since Napoleon pledged to maintain his course.
For all his bravado in marching ahead, Macron didn't foresee that his close aides could be the ones to force him to alter his path so soon in his term, said Francois Patriat, a senator, early backer and leading figure in the president's Republic on the Move party.
Macron has always seen his mandate in several phases. The first -- and current -- phase consists of implementing tough reforms on tax, labor laws, training, benefits and pensions to revive the economy. Phase Two would benefit from the fruits of those efforts in the run-up to the 2022 presidential election.
"Phase One was always until June 2019, after the European elections, as all the major reforms would be completed," said Patriat. Yet while there is now an urgency to revisit that plan, "the team has to stay and finish the job, even if sometimes there are diverging views," he said.
Macron's dilemma is all the more acute since, according to Patriat, he wasn't planning on making major cabinet changes until before the 2020 municipal elections, when some of his ministers aim to run for local office. The mayors of major cities in France are powerful roles with prestige that offer the incumbent a regional power base government ministers can lack.
Some are already feeling the lure. Collomb left to seek election as mayor of Lyon for a fourth time, having initially indicated he wouldn't leave the government until next year. Government spokesman Benjamin Griveaux is eyeing running for Paris mayor. Even Prime Minister Edouard Philippe hinted on television last month that he may be tempted to go back to city hall in his hometown of Le Havre.
Philippe has said Collomb will be replaced in the coming days. RTL radio reported Thursday that Philippe and Macron will go beyond just one new face and "restructure" the entire presidential team. Griveaux avoided a question about whether it would be a simple replacement or a wider reshuffle.
For Macron, Collomb's resignation is a moment to reassess his governance style which appears to be at the root of the problems he's facing, both within his cabinet and with French voters who label him aloof and even arrogant. His cabinet decision will give a hint on far he is willing to adapt his grand plan.
In a Bloomberg interview last week, Macron said he "is not poll driven." But his approval ratings have fallen faster and further than his one-term predecessor, Francois Hollande, at this stage in his presidency. Recent polls put his support about or even below 30 percent.
Even before Collomb quit, the president had started to rework his approach in a bid to show he can connect with common people. But it obviously doesn't come easily.
On Thursday, as he wandered through a crowd in eastern France during a visit to a monument to Charles de Gaulle, he was confronted by a group of pensioners unhappy at their monthly cheques. Macron cited France's wartime leader, whom he said made it a point of principle never to complain.
"I think it was a good practice of the General," Macron said. "The country would be better if we were like that."