Macron's History Lesson Tests Europe's Ideals
The echoes of history resound too loudly for some world leaders who marked the centenary of the World War I armistice.
"Nationalism is a betrayal of patriotism," French President Emmanuel Macron told yesterday's commemorations in Paris, watched by President Donald Trump, whose isolationist America First policies are straining ties with European allies.
As the Paris ceremonies went ahead, far-right groups carrying fascist emblems were among 200,000 people who marched in Warsaw to mark 100 years of Poland's independence. While Macron and German Chancellor Angela Merkel asserted European unity as the response to the slaughter of two world wars, the stridently nationalist messages of the governments in Poland and Hungary are increasingly at odds with this ideal.
The armistice brought peace but little comfort to Europe. It was swiftly followed by revolutionary upheavals, economic collapse and the rise of fascism that tipped the continent into devastating new war.
1918 "seems very far away and yet it was only yesterday,'' Macron said. "Old demons are resurfacing."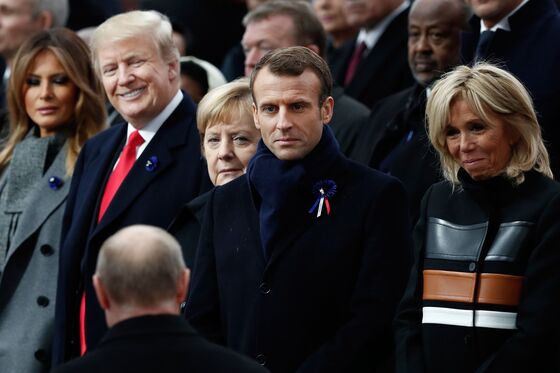 Lame-duck tasks | Congress returns tomorrow with Democrats and Republicans promising to work together to avert a partial government shutdown and pass spending bills and other legislation. But cooperation before the new Congress next year – when Democrats will control the House and the Republicans have an expanded Senate majority – faces a potential roadblock: Trump hasn't dropped his demand to fund a wall at the Mexican border.
Read more on the latest from the midterm elections:
Unfounded fears | Acting Attorney General Matthew Whitaker has told associates the Justice Department under his leadership won't cut the budget for Special Counsel Robert Mueller's investigation into Russian election interference, Chris Storhm exclusively reports. It's a sign some of the worst fears that Whitaker may interfere with the probe won't come true after he was chosen to replace Attorney General Jeff Sessions.
Momentum fading | The walls are closing in on Prime Minister Theresa May. The Cabinet was expected to meet as soon as today to sign off on her Brexit plans, but opposition to her approach is building from across the political spectrum. Suddenly, it's again talk of no-deal, general elections and even second referendums dominating the airwaves, just when May needs consensus. The chances of getting an accord done quickly this month are fading.
Battling voter fraud | Ballot snatching and buying, underage and multiple voting, and falsifying results are the among the abuses that have traditionally undermined elections in Nigeria. But now the authorities in Africa's biggest democracy are racing to stamp out such practices before polls in February by tightening up a new biometric system and ensuring that results are posted publicly and sent electronically to collation centers.
Risky business | Mexican President-elect Andres Manuel Lopez Obrador and allies from his left-wing party have roiled markets in recent weeks with proposals seen by investors as unfriendly to business. That's heightened concern about populist interventions designed to fulfill campaign pledges to help lift some 50 million citizens out of poverty. Mexico's reputation as an oasis of calm in turbulent Latin America looks to be at risk.
And finally ... Indonesia has a millennials problem. They're the largest voting bloc in the country's upcoming presidential election and yet they're the generation most disenchanted with the political establishment. The battle is on to reach the country's 80 million young voters struggling with a jobless rate three-times the national levels. For now, President Joko Widodo is drawing on themes from Game of Thrones and the Avengers franchise to attract the Netflix generation.