Macron's Concession to Protesters Risks Fiscal Credibility
(Bloomberg) -- Emmanuel Macron's suspension of fuel-tax hikes is an olive branch to protesters that could come with a high price tag for the French president as it pushes the deficit back toward European limits he has pledged to respect.
After violent demonstrations and with his poll ratings in free fall, Macron's government said it would suspend for six months its plans to continue hiking gasoline and energy taxes from January. In the 2019 budget, France had penciled in energy taxes that would raise over the full year an extra 1.9 billion euros ($2.2 billion) from households and 1 billion euros from companies.
The loss from suspending taxes will further stretch the public finances suffering from slower economic growth than the government initially expected this year. Unless made up somewhere else, France could be on a course for a warning from the European Commission.
It's a risky game for Macron to play as he has until now made fiscal rectitude a guiding principle of his presidency. Macron's bet is that only by repairing public finances would he have the credibility to take a leading role in Europe, and the margin to reform at home.
Authorities at the EU have already told France off for its budget plans, saying it's at risk of breaching fiscal rules next year. Last month, the European Commission said the country is at risk of "significant deviation" from the required improvement in deficit and there wouldn't be sufficient progress on debt reduction.
France's budget plans for next year see the deficit at 2.8 percent of GDP, close to the EU limit of 3 percent. Since the finance ministry made that forecast in September, the economic outlook has become less certain.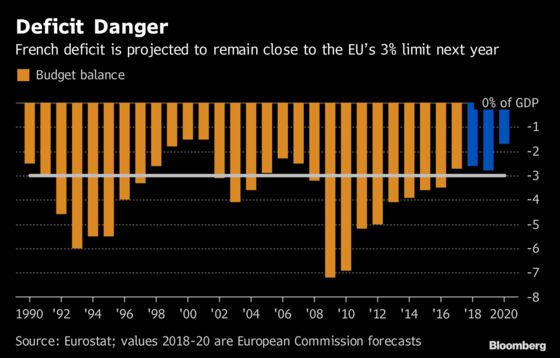 Speaking in Brussels after a night-long negotiations on the euro zone budget, French Finance Minister Bruno Le Maire said his administration will examine the impact of the measures to suspend tax increases. He also noted that a large part of the 2019 deficit is explained by a one-off hit from changes to employment tax credits and without that exceptional item the deficit would be 1.9 percent of GDP.
"The course that has been set by the president is to repair public finances and respect our European commitments. This course will be kept to in 2019 as in coming years," Le Maire said.
In Paris, lawmakers from Macron's majority preempted criticism from Brussels by calling for leniency.
"In every family sometimes there is a problem, like a car breakdown, something unexpected that you have to pay for. This is what we have right now. Surely, this is something the EU can understand," said Marine Leguille-Balloy, a lawmaker from LREM ruling party.