Macron's Candidate for Paris Mayor Withdraws Over Sex Video
(Bloomberg) -- Emmanuel Macron's candidate for Paris mayor pulled out of the race Friday after the publication of a sexually explicit video on social media sites, further complicating the French president's attempt to gain a foothold in local elections next month.
The intimate video and an alleged text message exchange between Benjamin Griveaux and a woman were circulated Thursday after their publication on a website Wednesday evening. On Friday, the mayoral candidate canceled planned media appearances and announced his withdrawal from the race in a pre-recorded statement across national TV networks.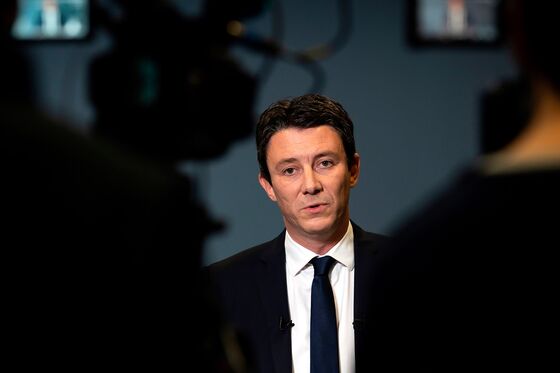 "A website and social networks have spread disgusting attacks," Griveaux, 42, said in the video statement. "My family doesn't deserve that."
Griveaux is married and has three children, according to French media reports.
Macron's candidate was already struggling in the race, polls showed. The electoral math was even more complex for Griveaux as his challengers included Cedric Villani, a former member of Macron's political party.
Socialist incumbent Anne Hidalgo is running for re-election, and Rachida Dati is the candidate of the center-right Republicans.
Griveaux was an early supporter of Macron's successful run for president in 2017 and served as the government's spokesman before quitting to run for Paris mayor.
"The plan for Paris, which we built and fought for, will be better off without me," Griveaux said.