Macron Reaches Out to Left as He Turns on Campaign Mode
(Bloomberg) -- French President Emmanuel Macron has begun working to rally the left to his side as he gears up for a tough fight to keep his job in less than a year.
Over the past few days, Macron appeared in a 30-minute game show with popular YouTubers clearly aimed at countering an impression of arrogance and aloofness that shows up in polls. And he gave a long and wide-ranging interview to a glossy magazine that caters to liberals, in a bid to reach out to those disappointed by his right-wing policies.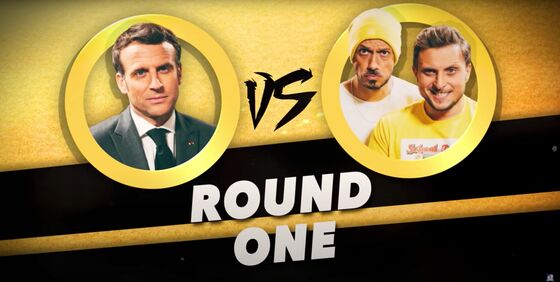 Taken together, the moves are the biggest sign yet that Macron has switched to campaign mode after more than a year focused on the Covid crisis. They're also an acknowledgment that his tack to the right has alienated the progressives he needs to rally round him to beat Marine Le Pen, the far-right leader likely to be his main rival in the April 2022 election. Macron plans to start touring France from next month to meet constituents, but has yet to formally announce he's running.
The monthly publication that ran the interview on Wednesday, Zadig, costs 19 euros ($23) an issue and targets mainly highly-educated, left-wing readers. It says it seeks to "reconcile the country with itself."
Over some 15 pages, Macron, who comes from an upper class family of doctors, describes his origins as modest and drops the names of eminent liberal figures. He professes his love for France, its language and diversity -- lauding Marseille as well as the poor, ethnically diverse Seine-Saint-Denis suburb near Paris, saying it was missing "only the sea." Last year, he singled it out as a haven for radicals and Islamists.
Macron also praises the African diaspora and says no one should have to give up their identity to feel at home in France -- going against his hardline interior minister, Gerald Darmanin, who has criticized multi-culturalism and doesn't even want supermarkets to devote aisles to ethnic food or stores to sell ethnic clothing.
Still, the president holds fast to his line that France shouldn't be compared to the U.S. and its treatment of minorities because the two countries are very different. He repeats his conviction that statues of controversial figures shouldn't be taken down, and that they should instead be viewed in their historical context.
Macron says France is driven by "choleric outbursts" and he had foreseen the Yellow Vests protest movement "although not to this extent." He says people unable to make ends meet felt "humiliated," even though they do everything society expects of them.
The polished interview -- Macron's office typically requests to proofread his exchanges, a common practice in France -- is peppered with literary references and convoluted sentences. It's in stark contrast to Sunday's playful Youtube appearance in which at one point, after losing a round, the president jumps of his chair and curses.
During the "anecdote contest," Macron tells influencers McFly and Carlito that Donald Trump rang him on a secure line in 2018 to wish him happy birthday, but on the wrong day. That turned out to be a tall tale. Macron also telephoned soccer star Kylian Mbappe to get the Paris Saint-Germain player to back up another of his stories.
The stunt, which racked up over 10 million views and dominated the political discussion over a long weekend, ended with Macron attending a heavy metal concert by the Ultra Vomit band in the gardens of the Elysee Palace. The appearance is helping to increase his popularity among young people -- who may not vote much, but influence their parents.