Macron Defends His Record After New French Rival Surges in Polls
(Bloomberg) -- Emmanuel Macron all but declared he will fight to keep his job on national television some four months before France's presidential election.
The French leader rarely grants long televised interviews to the national media. But as the campaign of his conservative rival Valerie Pecresse gains momentum and the April vote nears, he decided to appear on the most-watched national TV channel to defend his track record. 
In a 2.5 hour long interview on TV channel TF1, he pivoted from the economy and pension reform to the coronavirus pandemic and radical Islam. All the while, he tried to show a softer, more humble side.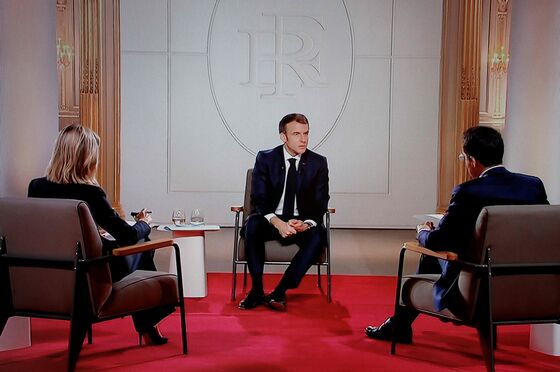 "My values aren't the values of a president of the rich," the former banker said on Wednesday, in an attempt to finally shake off a moniker he gained when he scrapped a wealth tax soon after taking office in 2017. "I have learnt a lot of things, and I'm more sensitive to certain things than before." 
Pollsters had seen Macron facing nationalist leader Marine Le Pen or far-right pundit Eric Zemmour in the second round of April's election. That calculation shifted with the Republican's recent decision to pick Pecresse, who heads the Paris region and served as budget minister under former President Nicolas Sarkozy.
Indeed, several polls now place Pecresse second after Macron, with one suggesting she could defeat him in the runoff. She would be France's first woman president.
Pecresse Jumps in French Polls, Highlighting Challenge to Macron
The interview was recorded on Sunday, under the blue, white and red stained glass windows of the Elysee Palace. It was entitled "Where is France going?" and focused on Macron's opinion of his own mandate. 
"When I was elected I loved France, and today I can tell you I love it even more foolishly," Macron said. He said that he had made mistakes, but tried not to repeat them and that he gave the best of himself. 
He dwelt on the ravages of the pandemic. One topic not discussed was climate change while international relations was barely mentioned.
Macron wouldn't be the first incumbent to delay announcing his candidacy. In 2012, Sarkozy waited until about two months before the ballot, fueling suspense and media attention.
Pecresse was forced to cancel her own appearance on a rival network to avoid conflicting with Macron's. She lashed out at him for that, telling reporters, "we can't have a president-candidate who has television channels open up for him whenever he wants it and is campaigning for hours on end." 
She said she would file a complaint with France's media regulator, which monitors the time given to presidential candidates.