Macron Nixes Munich Trip to Regain Ground Lost to Yellow Vests
(Bloomberg) -- Emmanuel Macron has only one thing on his mind -- and his agenda -- these days : France.
The French president canceled a mid-February visit to the Munich Security Conference, according to his office, missing out on a potential sit down meeting with German Chancellor Angela Merkel. He has nothing outside of France scheduled until the European leaders' meeting on March 20, and even that is not far from home.
After months of Yellow Vest protests that roiled the country with its violent clashes in Paris and in other towns, the 41-year-old leader is trying to gain ground lost to the grassroots movement with a series of marathon town hall conversations across France -- sometimes seven hours long. The debates have helped him claw back his popularity, with one poll showing him gaining 11 percentage points in two months.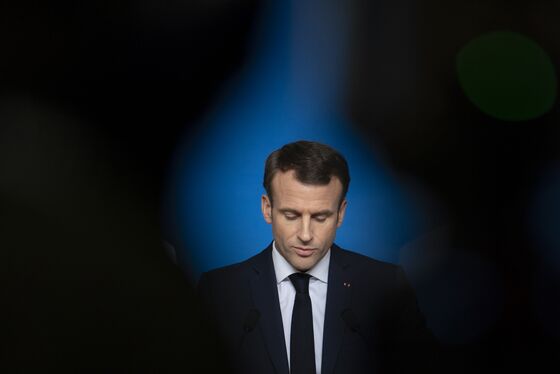 The Munich trip cancellation also comes as European Union governments butt heads over proposed natural-gas rules that could undermine the Germany-backed Nord Stream 2 project to boost imports of the fuel from Russia. France Thursday said it supports the EU gas directive aimed at applying the block's rules on all pipelines with third countries entering EU territory, effectively putting it on a collision course with its German ally.
Any tensions with Germany would come as Macron works through a row with Italy. On Thursday, Paris said it's recalling its ambassador to Italy, citing repeated "meddling" in its domestic affairs and "unacceptable" provocations, as relations between the two neighbors sunk to a new post-war low.