As Trump Is Grounded by Rain, Macron, Merkel Hail European Unity
(Bloomberg) -- Rain that grounded President Donald Trump eased as Emmanuel Macron welcomed Angela Merkel to Compiegne, scene of the Armistice signed 100 years ago ending World War I.
In November 1918, a defeated Germany was forced into an extraordinary humiliation by the Allies led by France under Marshal Foch, and handed punitive terms that sowed the seeds of another war just 20 years later.
On Saturday, Macron and Merkel sat side by side as they leafed through a golden book of commemoration in a replica of the railway carriage where the Armistice was signed in a clearing of the forest of Compiegne.
The president embraced the chancellor as they took part in a simple yet historic ceremony that commemorated French-German reconciliation after two devastating world wars. Solemn, with Merkel at times leaning on Macron for support, the two leaders unveiled a stone tribute in both languages marking "the value of French-German reconciliation in the service of Europe and peace."
Merkel said she was the first post-war German chancellor to visit the site with a French president. "We have peace today that cannot be taken for granted and for which we have to continue to work," she told reporters later. "So this day isn't just a warning, but an incentive."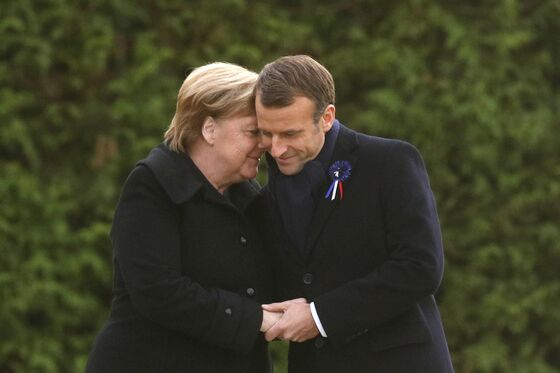 The show of European unity between the leaders of two countries whose enmity devastated the continent and fueled two global conflagrations in the 20th century contrasted with the scenes earlier on Saturday between two traditional allies. The rain beat down as Macron welcomed President Trump to the Elysee Palace in Paris, and had to reassure him that what Trump took as "very insulting" comments about the need for stronger European defense were in fact a misunderstanding.
Assuaged for now, Trump remained in Paris during the afternoon after a planned trip to an American military cemetery outside the capital was canceled because the weather prevented his helicopter from flying to the site. In Compiegne, some 80 kilometers (50 miles) to the northeast of Paris, the sun came out as Merkel and Macron entered the glade in the forest to review a joint German-French brigade. A soldier from the brigade addressed Macron and Merkel in each language, then a choir sang both national anthems.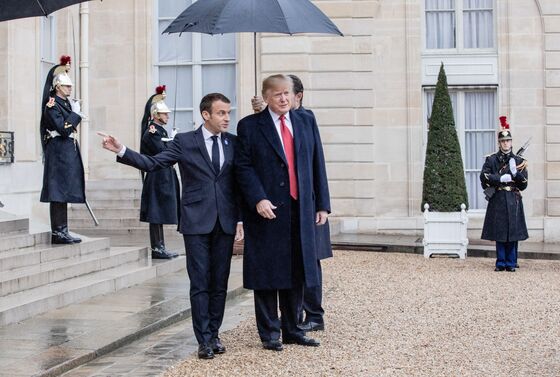 After signing the golden visitors' book, Merkel and Macron chatted with students of both nationalities about the debts owed to the dead of two world wars and the importance of Europe in ensuring peace. One of the many flagbearers with whom the leaders shook hands told Macron that the French-German friendship is the "cornerstone of peace."
"Our Europe has been at peace for 70 years, which is without precedent, and it's because of choice, and because France and Germany chose to," Macron said. Merkel, addressing the young students, added that "it's up to you."