Macron, Merkel Make a Show of Unity With Tour of Airbus Factory
(Bloomberg) -- Terms of Trade is a daily newsletter that untangles a world embroiled in trade wars. Sign up here. 
Emmanuel Macron and Angela Merkel toured an Airbus SE plant in southern France in a show of unity amid a widening transatlantic trade spat involving illegal government aid to the European plane maker.
Ahead of a joint cabinet meeting, the French president on Wednesday hosted the German chancellor in the city of Toulouse -- home to the manufacturer stitched together from German, French and Spanish aviation companies. The Airbus tour is a symbolic gesture to show solidarity in the face of heightened trade tensions, according to a French official who declined to be identified according to government protocol.
"I wanted to meet again in Toulouse with Angela Merkel to defend an industrial flagship at a time of commercial tensions," Macron said on Twitter. "With the women and men of Airbus, we've shown our ability to succeed together."
After striking up an enthusiastic rapport with the French leader early in his tenure, Merkel's relationship with Macron has appeared to cool in recent months as his repeated calls for closer EU integration went unanswered by Germany. But both back the European project and signed a treaty early this year to advance defense and foreign policy initiatives. The recent spat over Airbus underscored their joint economic interests.
The World Trade Organization this week gave the green light to the U.S. to impose tariffs on about $7.5 billion worth of European exports in retaliation for illegal Airbus subsidies, the largest such sum in WTO's history. The Airbus skirmish lands amid an uneasy 15-month truce struck between U.S. President Donald Trump and the EU, in which both sides pledged to scale back commercial barriers following Trump's duties on European steel and aluminum and threats for further tariffs.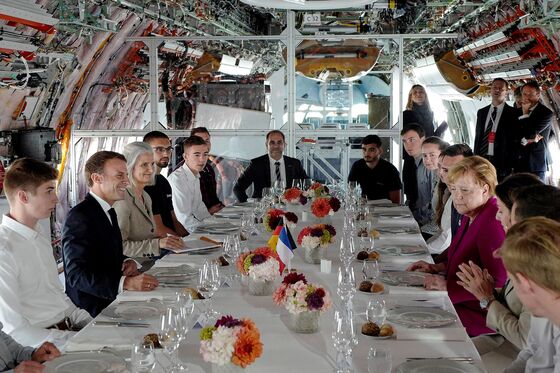 The two European leaders planned to hold a joint cabinet meeting in Toulouse a day before an EU leaders' summit in Brussels as officials from the U.K. and the trading bloc struggle to put together a Brexit deal in time for the meeting. Merkel and Macron will also discuss an EU response to the Turkish military incursion into northern Syria.
The EU failed to persuade the U.S. to refrain from retaliatory duties as planned on Oct. 18 and instead to negotiate a settlement. The European Commission told the Trump administration last week that the levies would compel the EU to strike back in a parallel lawsuit over U.S. aid to Airbus rival Boeing Co.
"If they continue with this decision, we, Europeans, in a few months will impose the same sanctions, maybe even more significant," French Finance Minister Bruno Le Maire said on Europe 1 radio on Wednesday.