Macron Joins Putin, Merkel for Syria Summit Hosted by Erdogan
(Bloomberg) -- Leaders from Russia, Turkey, Germany and France will meet in Istanbul next week in an effort to shore up a truce preventing further violence in Syria's last rebel-held region and bolster the political process toward ending the seven-year civil war.
Russian President Vladimir Putin will meet with Turkey's Recep Tayyip Erdogan, German Chancellor Angela Merkel and French President Emmanuel Macron in Istanbul on Oct. 27, the governments confirmed on Friday.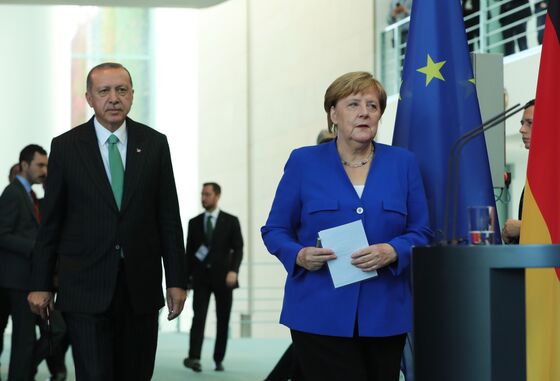 The idea of a summit first emerged in talks between Merkel and Erdogan last month, although France in particular was reluctant to commit to a meeting while Russia refused to consider a transition away from Bashar al-Assad's rule. Russia has instead stressed the need for Europe to help pay for reconstruction once the war ends in Syria.
Macron agreed to the half-day summit on the condition that there be no military offensive in the northwestern Syria province of Idlib, the country's last major rebel outpost, a French official said on condition of anonymity.
"The hope is that there will be gradual progress toward stabilization in Syria, in the knowledge that it will likely be a very difficult and lengthy process," German government spokeswoman Martina Fietz told reporters in Berlin.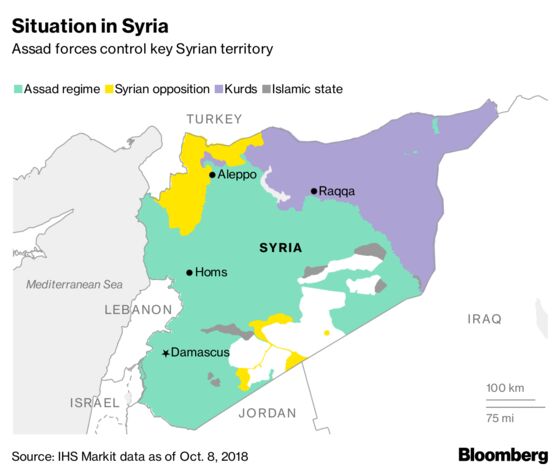 Russia and Turkey last month locked in a truce to hold off an offensive by Assad's forces on Idlib by setting up a demilitarized zone between rebels and pro-government forces. An assault threatened to trigger a fresh wave of refugees across Syria's border, directly impacting Turkey and Europe.
The Istanbul summit should be focused on stabilizing the Russian-Turkish agreement in Idlib and starting a political process despite resistance from the Assad regime, the French official said. Putin's government has displayed sufficient interest in a political process for Macron to come to the meeting, the official said.
One of the key topics to be addressed will be the rebuilding of the Syrian economy, a task that will require at least $100 billion, according to Moscow-based Middle East analyst Elena Suponina. She added that some experts estimate the cost to be as high as $500 billion.
"Russia understands that its joint efforts with Turkey and Europe are very much in need for rebuilding Syria," Suponina said. "It is impossible to solve the problem of the return of refugees without restoration of the Syrian economy."
Ibrahim Kalin, Erdogan's spokesman, said that "all aspects of the Syrian conflict" will be tackled, including the situation on the ground, the Idlib agreement and the political process. He added that "joint efforts to find a permanent resolution will be aligned."