Macron Cuts Solitary Figure as Chaos Swirls
The world seems to be closing in on Emmanuel Macron.
The French president returned from the Group of 20 summit in Argentina to find the "Yellow Vest" anti-tax protest movement is as popular as ever, despite its increasingly violent fringe.
In Brussels, finance ministers are due today to approve measures to strengthen the euro zone that are far weaker than the deep integration he'd preached. And later this week, Germany's ruling CDU party will choose a new leader who almost certainly will be less keen on tightening up the European Union than Angela Merkel.
Saturday's violence shocked France, and polls show that about four-fifths of the public think Macron should back down on the gasoline taxes – aimed at curbing carbon emissions – that spurred the protests. Even members of his party are urging him at least to delay them.
At home, it's difficult to see how he can push through the next set of planned reforms involving sure-to-be unpopular pension and unemployment insurance cuts. In Europe, the sweeping ambitions he laid out last year have butted up against Germany turning inward and Italy electing a euro-skeptic government.

Macron is trying lead a globalist push against the rise of the nationalists – just as the world is heading in a different direction.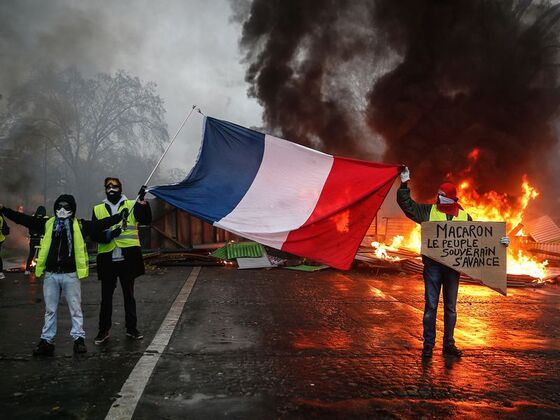 No unforced errors | Trump's overseas trips are often remembered most for what went wrong: the viral clip of him shoving a fellow leader out of the way, the angry tweets, the broken-down negotiations. Yet as the president returned to Washington from the G-20, the mood was one of satisfaction for all that went right, Nick Wadhams writes.
Trump sought to add to his success with a late-night tweet that China has agreed to "reduce and remove" tariffs on imported American-made cars, a claim that Beijing wouldn't confirm or deny.
Close study | China said Xi Jinping's meeting with Trump made progress on a sensitive issue for hundreds of thousands of Chinese families: their children's ability to secure student visas. That would mark a reversal from the Trump administration's move this year to curtail the ability of some Chinese to stay in America – part of what it called a campaign to thwart attempts to steal U.S. intellectual property. The White House hasn't commented. 
Brief respite | Trump and members of Congress are poised to shelve a budget fight that risks a partial shutdown of the U.S. government at the end of the week to allow lawmakers to pay their respects to late President George H.W. Bush. That comity isn't expected to last long, with Trump threatening to veto a spending bill if he doesn't get the $5 billion he wants for a wall on the U.S.-Mexico border.
Frosty relations | Vladimir Putin says he wants to repair relations with the U.K. "as soon as possible" after the international community blamed Russia for nerve-agent poisonings in Salisbury, England, this year that left one civilian dead. London isn't buying it. In a rare speech today, Alex Younger — the chief of foreign spy agency MI6 — named Russia as a state sponsor of terrorism and cyber warfare and said Putin shouldn't underestimate Britain's "determination." A thaw seems some way off.
New Spanish right | One constant in the four decades since Spain returned to democracy has been the main conservative party's ability to prevent a serious rival from emerging on its right. After the anti-immigration, anti-tax group Vox won 11 percent in Andalusia's regional election yesterday, that run is over, adding another layer of uncertainty to the fragmented political landscape.
Trump's threat to terminate the existing North American Free Trade Agreement puts pressure on U.S. lawmakers to limit the changes they want in a new regional pact signed to great fanfare last week by the U.S., Canada and Mexico.

Former FBI Director James Comey will testify behind closed doors on Friday before the House Judiciary Committee after ending a legal fight to quash a subpoena by Republicans.

Russia's space agency is attempting to send its first crew into space today on a Soyuz rocket since a booster failure on a similar model forced astronauts to abandon their mission minutes after liftoff in October.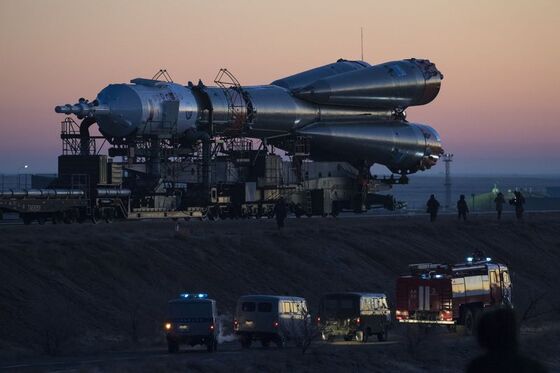 And finally ... Mexican President Andres Manuel Lopez Obrador is fulfilling a campaign promise by selling the Boeing 787 Dreamliner that's transported his predecessor since 2016. The leftist president has called the $200 million plane ostentatious and said it outclasses the American president's Air Force One. As he took office on Saturday, he threw open to the public the Los Pinos compound in Mexico City, official residence to 14 Mexican presidents since 1934, saying he intends to maintain a more modest household.