Macron, Conte Seek to Map New Course After Paris-Rome Spat
(Bloomberg) -- French President Emmanuel Macron and Italian Prime Minister Giuseppe Conte pledged to reset their countries' relations after a postwar low, starting with efforts to counter the coronavirus and remodel the European Union.
Conte hosted Macron in Naples, with both leaders vowing to turn the page on what Macron called "a difficult period" that saw him recall the French ambassador to Rome for a week in February 2019 after then-Deputy Premier Luigi Di Maio visited France to meet Yellow Vests protesters.
"This bilateral summit is truly the one that underscores the French-Italian reset," Macron told a joint news conference after the talks that also involved government ministers. The two sides sought to boost cooperation in fields ranging from reviewing European Union governance to a European banking union and the naval and technology sectors.
Projecting a business and tourism-as-usual image despite the spread of coronavirus in their countries, with Italy the worst-affected European nation and France issuing warnings on returnees from northern Italy, the leaders began their day in Naples with visits to a theater and a chapel in the historic heart of the city. They chatted with a violin restorer and stopped in a bar for coffee.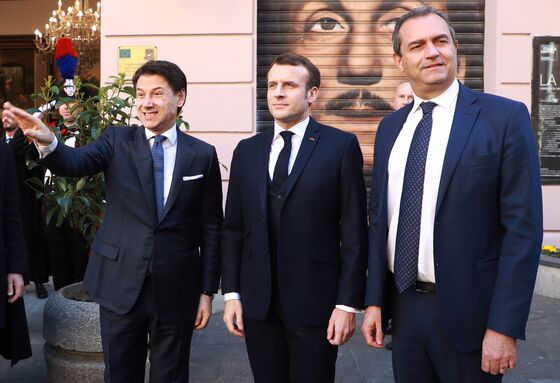 Macron insisted the virus could only be countered "with perfect European and international cooperation," rejecting calls for suspending the Schengen Treaty that allows for border-free EU travel. "The virus doesn't stop at borders," Macron said.
Conte echoed that "closing borders would have caused an irreversible impact on our economy," which is already sluggish compared to EU peers.
On EU reform, Conte said he and Macron agreed on the need to review competition rules "to make our European champions grow," because current norms "are not adapted to competing on a global level."
Common projects agreed to in Naples including a joint shipping venture between Naval Group and Fincantieri SpA, and an accord between Italian state lender Cassa Depositi e Prestiti and France's Banque Publique d'Investissement to create a fund for technology and innovation.
The two leaders reaffirmed their commitment to enforce an arms embargo to ensure a cease-fire in Libya, with the EU preparing to deploy aerial, satellite and maritime assets in the Mediterranean Sea to prevent arms shipments. Both France and Italy are increasingly marginalized in a region where they were once dominant players, with Russia and Turkey now the heavyweights.
The spread of the coronavirus especially in the northern Italian regions of Lombardy and Veneto has caused a virtual lockdown in vast areas.
The French Foreign Ministry has recommended that people postpone trips to northern Italy, and that upon their return they work remotely for two weeks and wear surgical masks. The French Education Ministry has asked schools to recommend that children coming back from Lombardy and Veneto should stay home for 14 days.
For Macron, the Naples visit has personal significance as well. The San Ferdinando Theater he visited was the home of the late playwright Eduardo De Filippo, and it was a play of his that Macron reshaped in high school with his drama teacher Brigitte Auziere, who later became his wife.