Macron Bombards French Voters in Fight Back Against Populists
(Bloomberg) -- Italy's firebrand Matteo Salvini and French nationalist Marine Le Pen aren't the only politicians starting early for the European Parliament elections in May.
French President Emmanuel Macron, the main focus of the populists' anger, is also in campaign mode as he looks to calm passions stirred up by the Yellow Vest protests.
The president is out and about in the French heartlands this month with a series of marathon meetings to debate local issues like speed limits for cars, pensions, hospitals and fishermen's rights. At the first one, he spoke so long the batteries on his microphone died.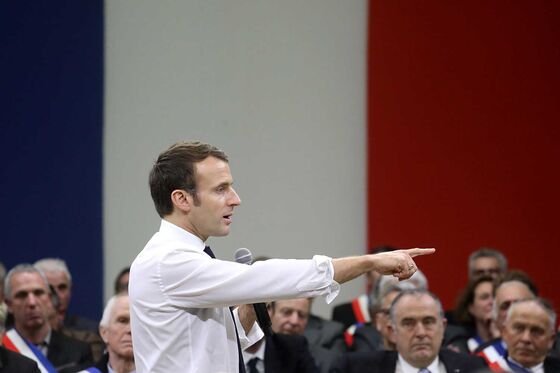 And since he's officially running a national policy debate as head of state, rather than a partisan election campaign, that means hours and hours of free air time.
After six or seven hours of live coverage of his first two events critics complained that Macron was abusing his position and so the Elysee palace won't be live streaming Thursday's session in the snow-covered town of Bourg-de-Peage. But it will still dominate the headlines all day.
The rest of the government is on board too, using the imminent Brexit deadline as an excuse to hammer home Macron's message about a "protective" Europe, a caring French state and the risks of calling it all into question.
Polls since he started with his plan show he may on to something. His personal ratings has edged up and projections for his party's vote in May are ahead of Le Pen's movement again.