Macri's Real Problem: Paychecks Fail to Keep Up With Price Hikes
(Bloomberg) -- President Mauricio Macri already faces an uphill battle to re-election next year between Argentina's recession and currency crisis. Now add wage growth issues to the mix.
The inflation-wage growth mismatch is widening, a surefire way to infuriate voters. For August, wages rose a year-on-year 21.9 percent, according to government data published Wednesday. Macri's problem is that inflation for the same month clocked in at 34.4 percent with more pain expected: economists surveyed by the central bank see that hitting 44 percent by December.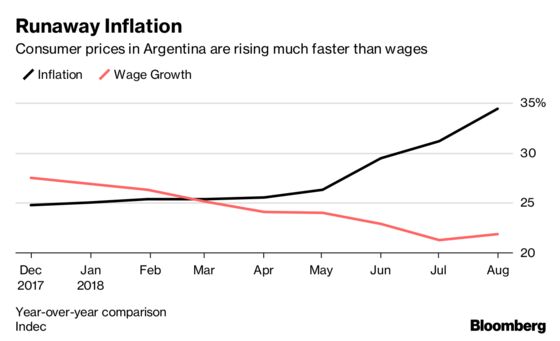 The price increases are hitting pockets hard. Food and beverage prices were up 33.5 percent in August, while utility prices -- deeply affected by the government cutting back on subsidies -- soared 52.8 percent.
Unsurprisingly, Macri's approval rating has stumbled to the lowest mark of his presidency. New figures published Wednesday show his approval rating in October stood at 1.76 on a scale of 1 to 5, according to a benchmark poll published by the University of Torcuato di Tella and Poliarquia Consultores. It was up a hair from 1.75 in September, but a full point lower than the 2.83 from a year ago and nowhere near the 3.14 at the beginning of his presidency.