Macedonia Name Vote Teeters as Zaev Struggles to Muster Support
(Bloomberg) -- The Republic of Macedonia's government is struggling to muster support to rename the country in a vote that could either open the path to NATO and European Union membership or touch off a political crisis.
Lawmakers in Skopje adjourned debate on Thursday as Prime Minister Zoran Zaev tries corral a constitutional two-thirds majority in Balkan nation's parliament. The legislation to adopt the label "The Republic of North Macedonia" is designed to end a decades-long dispute with neighboring Greece, which insists the name "Macedonia" should refer only to its northern province. Parliament will resume discussion on Friday.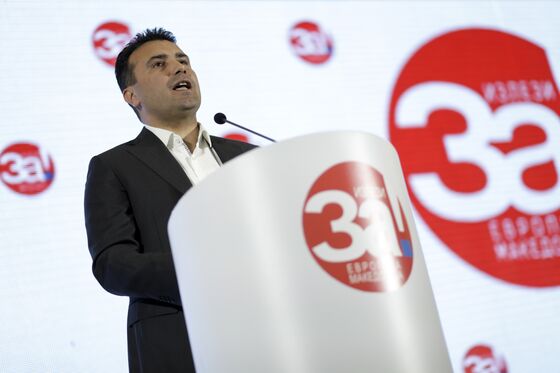 "I can't say if we'll have the necessary 80 lawmakers, but the clock is ticking," Zaev said at a briefing streamed live from Skopje before the recess was announced on parliament's website. "I wholeheartedly believe that this is of utmost importance for our citizens, for Macedonia and for its future. But the responsibility is with lawmakers."
Greece has promised to lift its vetoes on the former Yugoslav republic's bids to join the North Atlantic Treaty Organization and start accession talks with the EU if the change goes through.
But opponents of the deal abound. First, there's Russia, which opposes any further expansion of NATO into former-communist Europe, a region it considers its sphere of influence. Nationalists in both Greece and the Republic of Macedonia are also against the agreement.
Zaev is seeking support from parties representing Macedonia's ethnic-Albanian minority, who backed him in an October vote to start the constitution amendment process. Their deliberations, focused on language recognizing the country's multi-ethnic character, are making it hard for Zaev to win over independents that defected from the opposition VMRO-DPMNE party, which opposed the plan.