Convicted Balkan Ex-Leader's Asylum Plea Puts Orban in a Jam
(Bloomberg) -- The convicted former prime minister of the Republic of Macedonia fled to Hungary and applied for political asylum, challenging Prime Minister Viktor Orban's balancing act between mainstream European politics and its nationalist fringe.
Orban faces a tough decision. He can grant asylum to Nikola Gruevski, the Macedonian leader who escaped to avoid starting a two-year prison term for abuse of office, and further erode his image among Europe's mainstream political elite. Or he can reject it and abandon an ally he campaigned for and possibly anger Russian President Vladimir Putin.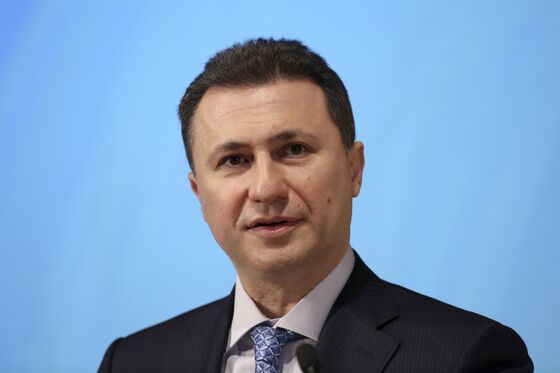 "It'd be embarrassing for Orban at home and abroad to grant the asylum request to a convicted Balkan politician," said Attila Juhasz, an analyst at Political Capital in Budapest. "There's nothing that would explain it, except for the Russian influence."
Macedonia has been at the center of a geopolitical tug-of-war, with Putin trying to keep the nation as a buffer between what he considers to be Russia's sphere of influence and the North Atlantic Treaty Organization, the western military alliance. In a referendum in September, Macedonians overwhelmingly backed changing the country's name to clear the path to joining the European Union and NATO, though turnout was low.
Macedonia's current government has accused Gruevski, who led the Balkan nation for more than a decade, of deliberately fueling a lengthy dispute with Greece over the name of the country. That made him an awkward ally for Orban, who has campaigned for Gruevski despite pushing for EU expansion into the Balkans.
Macedonia's Foreign Ministry summoned the Hungarian ambassador late Tuesday to ask about Gruevski's arrival. Authorities are also looking to determine how exactly he made it to Hungary since a court seized Gruevski's passport last year. Macedonia has issued an international arrest warrant. Hungarian government officials, meanwhile, have refused to say whether they'll detain and extradite Gruevski or grant him asylum.
Gruevski, a nationalist like Orban who has led a propaganda campaign against Hungarian-born U.S. investor and philanthropist George Soros, resigned as prime minister three years ago following a scandal triggered by leaked tapes that alleged his government illegally wiretapped more than 20,000 people. After losing a 2016 election, he was convicted for ordering the Interior Ministry to hold a tender for an armored Mercedes limousine worth 35.2 million denars ($643,000) for his personal use.
"In the past few days I've received countless death threats," Gruevski said on his official Facebook page on Tuesday. "I'm in Budapest now, and I've sought political asylum from the Hungarian authorities."
Two officials from Gruevski's VMRO-DPMNE political party, former Transport Minister Mile Janakieski and former government Chief Secretary Kiril Bozhinoski, were detained early Wednesday. They're also among those charged in the wiretap scandal.
Gruevski's arrival in Hungary may complicate Orban's strategy of being an ideological ringleader to Europe's resurgent nationalist movements while keeping a foot in the EU's mainstream camp. Orban has been actively campaigning in eastern Europe and the Balkans to spread his ideology, which spurns the EU's liberal democratic values.
Still, last week Orban agreed to back an anti-populist resolution at the congress of the biggest party in the European Parliament, the European People's Party, which also includes German Chancellor Angela Merkel's CDU.
The measure, at least temporarily, helped unite a political family in which several members had urged the expulsion of Orban's Fidesz party for its crackdown on civil liberties. In September, the European Parliament triggered a sanctions mechanism against Hungary for being a "clear risk" to the rule of law.