Lula Would Beat Bolsonaro in Brazil's Election, Poll Shows
(Bloomberg) -- Former President Luiz Inacio Lula da Silva is set to defeat the country's current leader Jair Bolsonaro by a wide margin in next year's presidential runoff, according to a survey by Datafolha.
Lula would capture 41% of votes in the first round of the election, compared to Bolsonaro's 23%, the poll released late Wednesday said. In a potential second and final round, Lula would handily win with 55% of votes compared to Bolsonaro's 32%, the survey showed.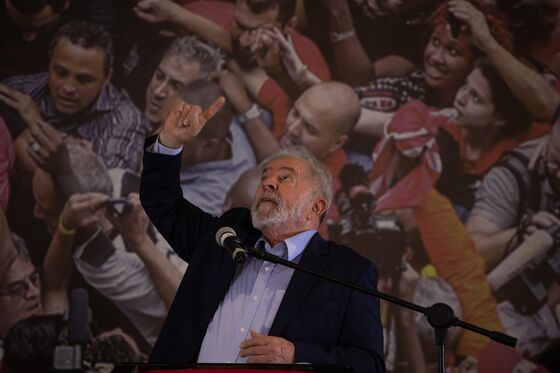 Earlier this year, Brazil's top court cleared Lula of corruption convictions that barred him from running for office, thrusting one of the nation's most dominating figures back into the center of the political arena. At the same time, Bolsonaro's popularity has crumbled due to his handling of the pandemic. Over 425,000 Brazilians have died from the virus, the highest death toll after the U.S., and economic growth is weak.
The far-right president's approval rating fell to 24%, down from 30% in March, the lowest of his tenure, while his rejection rate rose to 45%, up one point from the previous poll.
Lula's return has also sapped the strength of Bolsonaro's middle-ground challengers. Notably, no other potential candidate captured more than 7% of voter intentions, the survey said. Yet many Brazilians are unenthusiastic about the prospect of a race between two of the country's most polarizing figures: 9% said they will cast null votes in the first round, while 4% are undecided.
Datafolha interviewed 2,071 people across the country May 11-12. The poll had a 2% margin of error.