Lula's Successor May Not Be the Bogeyman That Brazilian Investors Fear
(Bloomberg) -- Financial markets are just as spooked that former Sao Paulo Mayor Fernando Haddad could become Brazil's president as they were when his mentor Luiz Inacio Lula da Silva was elected 16 years ago.
Back then, Lula calmed investors by adopting market-friendly policies and appointing a respected economic team that oversaw rapid economic growth and made him a Wall Street darling. Chances are Haddad, who on Tuesday officially replaced Lula as the candidate of the Workers' Party, would try a similar path. Only it won't be as easy.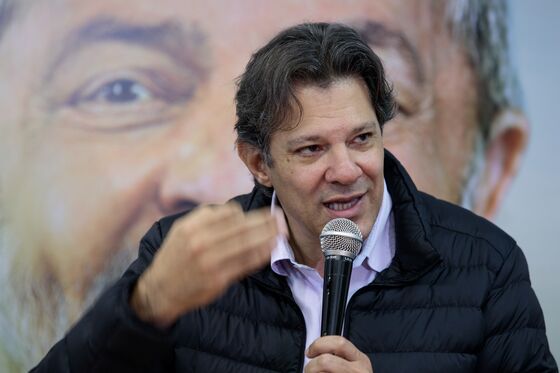 A 55 year-old academic and former education minister under Lula, Haddad gained support in opinion polls this week and is now statistically tied as runner-up, a move that fueled another selloff in Brazilian assets. With Lula's explicit endorsement, he could have enough votes to make it to a run-off round against Jair Bolsonaro, the fiery former paratrooper who extended his lead in polls after being stabbed by a fanatic during a campaign rally last week.
"Haddad is more pragmatic and less of an ideologue," said James Gulbrandsen, a Rio de Janeiro-based money manager who helps oversee $3.5 billion at NCH Capital. There's a reasonable chance of minimalist reforms "that keep Brazil out of the default zone under Haddad."
So far, Haddad's proposals have worried financial markets. Among them, public banks would again offer cheap credits, pro-business reforms under current President Michel Temer would be undone and capital controls used to help stabilize the currency.
Haddad frequently takes aim at what he calls the oligopoly of Brazilian banks. "We have no more patience with these guys, we need to give the banks a shock," he has said.
His supporters say that's just campaign rhetoric, arguing he has stuck to orthodox economic policies and is a pragmatist able to reach across the aisle. As mayor of the country's biggest city, Haddad kept the books balanced, pushed unpopular bus fare increases, and obtained an investment-grade rating.
"It is unfair to think of Haddad as an economically irresponsible politician," said Kiko Celeguim, also from Haddad's party and mayor of Franco da Rocha, a city near Sao Paulo.
There's been a lot of bad blood in Brazilian politics in recent years. Lula is in jail, his successor Dilma Rousseff was impeached, the economy is in shambles, and dozens of politicians on either side of the aisle face corruption investigations. With its radical defense of Lula, the Workers' Party has also made more enemies, and forming a majority will be difficult in a fractured party system.
Indeed, chances of reviving an alliance with its erstwhile partner, the MDB, would be very slim, according to a senior MDB cabinet member who requested not to be named so as not to undermine election strategies. Rousseff, who is running for Senate, accused much of the MDB's leadership of staging a coup to oust her and fixing the judiciary to lock up Lula.
Then there's the question of whether party leaders would allow Haddad to pursue a more market-friendly economic agenda, such as keeping in place a constitutional spending cap or parts of a labor market reform implemented by the current Temer administration. As a middle-class intellectual with degrees in economics, law and philosophy, Haddad is seen as distant from the party's grass roots movements -- not a working-class man.
"He's far from being the consensus name within the party," said Mauricio Santoro, a professor of politics at the Rio de Janeiro state university. "It'll be a big blow to Haddad voters thinking they'll get a savior when he'll have to make a series of concessions," he said, referring to the tough coalition talks that would lie ahead.
Haddad faced mass protests over bus fare increases he ordered in Sao Paulo and lost his re-election bid there in 2016, in the wake of Rousseff's impeachment. His worst results came in the poorer areas of the city.
In fact, Haddad was not Lula's first choice to carry on the baton. Jacques Wagner, the former Bahia governor and a long-time Lula confidant, declined the challenge because of an ongoing corruption probe against him, according to two senior party members who asked not to be named.
Lula's complete control over the Workers' Party also raises the question of who would actually be in charge if Haddad wins. Tarso Genro, a party veteran who in some ways launched Haddad's political career by getting him the job as Lula's education minister, dismissed the notion that the ex-president would act as a puppeteer, steering the nation from behind bars.
"Haddad is not a placeholder. He's a successor with talent," Genro told Bloomberg News.
At the education ministry, Haddad is widely considered to have done a decent job, creating a nationwide college entry exam and expanding loan programs to attract poorer students.
Before being elected in 2002, Lula sought to allay investor fears with his famous "Letter to the Brazilian People." But if Haddad wants to win over markets, he will have to act fast and use more than words, according to Marcos Buscaglia, founding partner of Alberdi Partners.
"Investors will ask for proof of his market-friendliness," said Buscaglia. "In 2002 the real collapsed until Lula showed he would not be an extremist. The same is needed now, only that the fiscal urgency is much bigger."