Lula's Party May Reach Runoff Vote, Temer Says
(Bloomberg) -- The left-wing Workers' Party of Luiz Inacio Lula da Silva, the former president who's now in prison, has a chance of reaching the runoff phase of Brazil's hotly contested election, current president Michel Temer said.
Domestic politics are divided into extremes that include a right-wing conservative appealing to much of society and the left-wing Workers' Party potential return to power, Temer said Monday in an interview at Bloomberg's headquarters in New York City. That division isn't necessarily negative, Temer said, as it makes it easier for voters to make up their mind.
Temer took power after Lula's successor, Dilma Rousseff, was impeached in 2016 for breaking fiscal laws. Temer, who had been Rousseff's vice president, was branded by many on the left as a traitor and coup-leader. Two years later the Workers' Party has a chance for a comeback. Its candidate, former Sao Paulo Mayor Fernando Haddad, is runner-up and likely to make it to a runoff vote.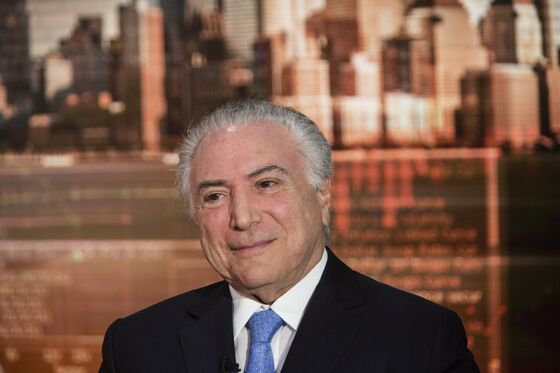 In the interview, Temer pledged to resume efforts to approve a reform of the country's bloated pension system. He said it is possible to make some advances between the elections and the end of his mandate at year-end.
He also said that his speech to this year's United Nations General Assembly will be marked by optimism about Brazil's economy. Brazil has strong international reserves which buffer it from contagion from Argentina and risk aversion towards emerging markets, plus low inflation, a recovering economy and job growth. No one will be able to undo the reforms that have been made, he said.