Brazil Markets Fall as Lula's Heir Takes Runoff Lead in Poll
(Bloomberg) -- Brazil markets declined after leftist candidate Fernando Haddad gained ground in the latest presidential election survey less than two weeks before voters head to the polls.
Stocks in Sao Paulo fell 0.4 percent in early trading, set for a second day of declines. The real dropped 0.7 percent, the worst among major currencies. Traders are concerned about a return of a left-wing government, which they largely blame for bringing about the worst recession on record. The government program of Haddad's Workers' Party proposes undoing market-friendly reforms, introducing capital controls, and offering cheap credit to fuel consumption. Fixing budget woes which cost Brazil its investment grade status took a back seat in the election debate.
The former Sao Paulo mayor saw his first-round support increase three percentage points to 22 percent in the Ibope poll published Monday. Ex-paratrooper Jair Bolsonaro remained in the lead at 28 percent, but his rejection rate rose from 42 percent to 46 percent. In a runoff scenario between the two, Haddad would beat Bolsonaro by six percentage points.
Haddad took over as the party's candidate from former President Luiz Inacio Lula da Silva, who is serving jail time for a corruption. Lula is still hugely popular but was barred by court from running. The latest polls suggest he has managed to transfer much of his support to Haddad.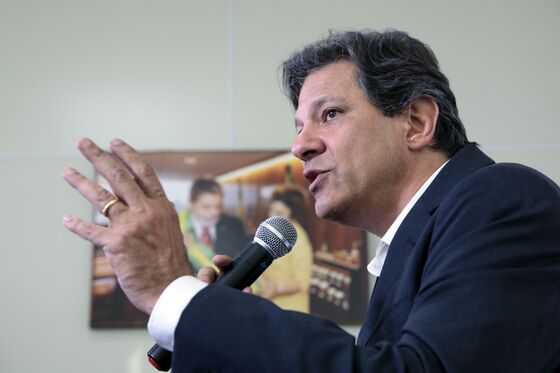 "The market will gradually reflect the realization that Bolsonaro is likely to face Haddad in the second round, and Haddad has the edge in getting the alliances," said Danny Fang, an analyst at Banco Bilbao Vizcaya Argentaria SA in New York.
Bolsonaro, who remains hospitalized after he was stabbed by a fanatic during a rally earlier this month, would lose to all but one of his potential competitors in a likely runoff vote on Oct. 28.
In his first broadcast interview since the incident, Bolsonaro teared up as he described the attack and said he didn't believe his attacker acted alone. He provided no evidence for the claim. Bolsonaro, whose aides have tried to soften his authoritarian image in recent days, said he had never preached hatred and that education was key to ending intolerance.
"The second round is worrisome for Bolsonaro, showing the importance of a more moderate tone," said Lucas Aragao, a partner at political consultancy Arko Advice.
Former Ceara state Governor Ciro Gomes and market favorite Geraldo Alckmin trailed with 11 percent and 8 percent, versus 11 percent and 7 percent, respectively, in the previous poll. Environmentalist Marina Silva's support fell slightly, from 6 percent to 5 percent.
The Ibope poll surveyed 2,506 people between Sept. 22-23 and has a margin of error of plus or minus two percentage points. The poll was registered with electoral court under code BR-06630/2018.