Lula Flirts With Centrist VP Ahead of Brazil Presidential Race
(Bloomberg) -- Brazil's leftist leader Luiz Inacio Lula da Silva made a public appearance with a former centrist governor he's considering to be his presidential running mate in a nod to moderation ahead of next year's election. 
Lula, 76, and former Sao Paulo Governor Geraldo Alckmin, 69, met Sunday at a dinner party organized by a group of opposition lawyers in an upscale Sao Paulo restaurant. More than 500 people attended the event, including leaders from leftist and centrist parties.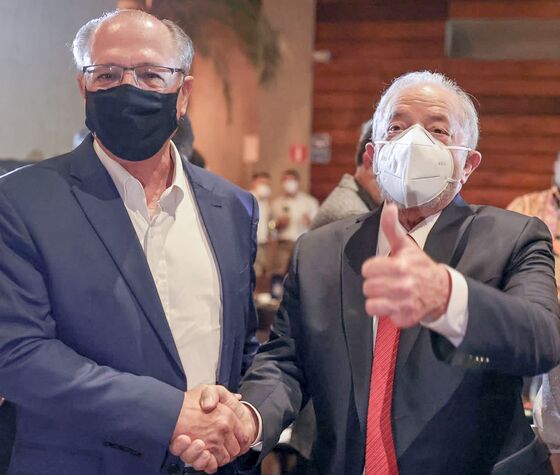 "It doesn't matter whether we were adversaries in the past," Lula said in a speech at the event. "The magnitude of the challenge that lies ahead makes all of us early allies." 
Lula, the front-runner in the 2022 race, is seeking to broaden his appeal to challenge President Jair Bolsonaro in the October vote. He made a similar move toward the political center when first elected president two decades ago, by choosing businessman Jose Alencar as his vice president. Alckmin remains a popular politician in Sao Paulo, the state he governed twice and where Bolsonaro won substantial support in the previous election. 
Lula would like to build a broad range of alliances to govern a deeply polarized Brazil if elected next year, the former president told Reuters in an interview. He added that he would like to boost inheritance tax to close to 50%, while creating a bigger consumer market for companies by putting money in the hands of the poor.
Alckmin, who lost the 2006 presidential election to Lula, told reporters at the end of the dinner that they had taken the first step forward, but an alliance would still require "a lot of talk." He is seeking a political group and still considers another governor run in Sao Paulo after resigning from the Brazilian Social Democracy Party he had helped to launch more than three decades ago.