Nigerian Protesters Defy Curfew After Deadly Crackdown
Hundreds of young Nigerians defied a lockdown and returned to the streets of Lagos, Africa's most populous city, a day after the security forces violently confronted a crowd protesting against police brutality.
Youths carrying sticks and metal poles set tires on fire and chased cars that tried to evade barricades they'd erected along one of Lagos's main expressways. Several other streets were also sealed off, and the sound of sporadic gunshots echoed across the city.
A Nigerian Red Cross Society official said at least two civilians were shot dead in Lagos's Lekki district on Tuesday, adding to at least six other deaths, including those of three policemen, in other areas. Lagos state Governor Babajide Sanwo-Olu said 25 people were hospitalized and one died of his injuries after the incident. He ordered a probe into the conduct of the army, which falls under the federal government's control.
The soldiers' intervention on Tuesday night "turned a peaceful protest against police brutality into a shooting spree," Anietie Ewang, Nigeria researcher for New York-headquartered Human Rights Watch, said in an emailed statement. The country's authorities "should immediately withdraw the military from the streets" and prosecute the officers who were responsible or complicit, she said.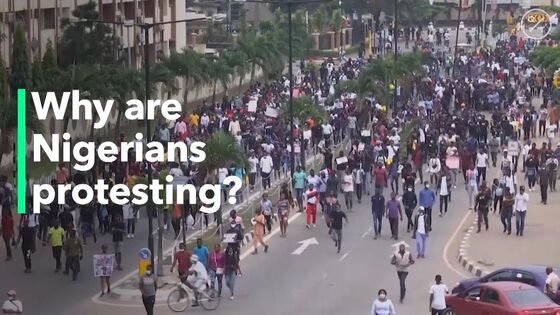 In a series of tweets on its Twitter page, the army labeled reports that soldiers had fired on the protesters in Lekki as fake news. Spokespeople for the army and the police didn't immediately answer calls seeking comment.
While Nigeria has become accustomed to violent incidents in recent years, most have been confined to the country's north, where President Muhammadu Buhari's government is fighting an Islamist insurgency led by Boko Haram extremists. Deaths perpetrated by security forces in the country's economic hub are rare.
The protests erupted on Oct. 5, with thousands of mainly young people having taken to the streets of Abuja, the capital, Lagos and other towns, blocking major roads and bridges, disrupting flights and bringing many businesses to a standstill. The unrest and the authorities' increasingly heavy handed response has begun to unnerve financial markets.
Yields on Nigeria's 2032 dollar bonds jumped 15 basis points to 8.29% by 3:33 p.m. in London, after climbing 21 basis points on Tuesday. The premium investors demand to hold Nigeria's dollar debt rather than U.S. Treasuries widened by nine basis points, according to JPMorgan Chase & Co. indexes. Nigeria's benchmark share index drops as much as 1.5%, the sharpest intra-day decline in two weeks, and the naira fell as much as 1% against the dollar.
The Lagos Chamber of Commerce and Industry estimates that the unrest has cost about 700 billion naira ($1.8 billion) in lost output, although the oil industry -- Africa's biggest and the mainstay of the economy -- hasn't been affected so far. A coalition of nine insurgent groups in the oil-rich delta region have warned they may attack oil and gas facilities if the government fails to meet the protesters' demands, the Lagos-based ThisDay newspaper reported on Wednesday.
The Lekki crackdown came after Sanwo-Olu announced a 24-hour curfew to try and end disruptions in a region that's home to more than 22 million people and houses the headquarters of Nigeria's biggest banks and largest companies. While the government issued a directive to its security forces not to use violence against the protesters, human rights group Amnesty International estimated that at least 18 people had been killed since the demonstrations prior to Tuesday.
The security situation in Lagos deteriorated from Oct. 18 as "criminal elements" took advantage of the police's instructions not to use force, Sanwo-Olu said on Twitter. Police stations were burned down and financial institutions looted on Tuesday, while several other buildings were set on fire on Wednesday, he said.
Two television stations ceased broadcasting on Wednesday after an attack on their facilities, although one later came back on air.
The events in Lagos drew criticism from U.S. political leaders, including presidential candidate Joe Biden and former Secretary of State Hillary Clinton, who urged Buhari to end the violent crackdown on protesters. United Nations Secretary-General António Guterres echoed the call.
Demonstrations resumed in Abuja on Wednesday, and several vehicles were set alight before soldiers dispersed the crowds, according to eye witnesses. Schools and most shops and offices were shut in the Dutse district, a focal point of the protests.
"A lot of us have to stay home because of attacks from thugs who have hijacked the protest," said Saleh Usman, who sells electronic appliances and mattresses in Dutse. "People are afraid for their lives and property."
The protests have continued despite the government bowing to a key demand of protesters -- the dissolution of a police unit that has borne the brunt of the brutality allegations. Besides police reforms, the protesters want Buhari -- who hasn't made a public appearance for more than a week -- to address the nation, and compensation paid to the families of those who've died in the unrest.
"The Presidency appeals for understanding and calm across the nation, as the implementation of the reforms gathers pace," Buhari's office said in an emailed statement.