London's Anti-Trump Protests Smaller Than Expected on Damp Day
(Bloomberg) -- Protests in London against the state visit of U.S. President Donald Trump were smaller than expected as crowds failed to turn out in the same numbers as last time he visited.
Thousands gathered in central London bearing placards protesting Trump's policies on minorities, healthcare, climate change and Palestinians. But the crowds on a damp Tuesday failed to rival those on a sunny Friday in July, when organizers estimated some 250,000 took to the streets.
"I heard there were protests; I said, where are the protests?" Trump said at a joint press conference with Prime Minister Theresa May. "I don't see any protests. I did see a small protest today when I came. Very small. So a lot of it is fake news."
Organizers had promised a "Carnival of Resistance" gathering in Trafalgar Square. A succession of politicians, trade union officials and activists spoke from a stage halfway down Whitehall, a short distance from Downing Street, where Trump met with May.
Opposition Labour Party Leader Jeremy Corbyn was the star attraction, criticizing Trump's Twitter attack on London Mayor Sadiq Khan, railing against racism and warning the government not to allow the National Health Service to be included in transatlantic trade talks.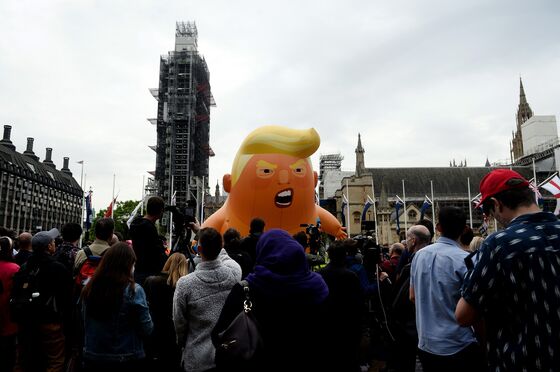 Placards ranged from simple messages, "Dump Trump" and "Trump not welcome" to the more inventive, including an acrostic spelling out the president's surname: "Tweets Ridiculously Unkind Meaningless Piffle." A blimp depicting Trump as a giant baby with tiny hands was floating outside Parliament as the president passed.